Your current location:
Top of the class for trainers
Top of the class for trainers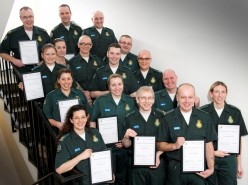 THE first group of London Ambulance Service staff to complete a pioneering training course have been recognised at a special ceremony.

The 25 paramedics and emergency medical technicians have completed a three-module course for practice educators, who provide support for university students and student paramedics on placements with the Service.

The 150-hour training programme - believed to be the first of its kind in the country - includes assessing staff, giving feedback and also dealing with more challenging students, as well as completing written assessments.

Placement Development Tutor Paul Fayers said: "The London Ambulance Service is leading the way in terms of our programme for practice educators and we've been approached by other Services who are keen to follow our lead.

"This specially-designed course is beneficial for all involved. We're providing our staff with more skills to help them do their job and it means the students get a consistent level of support and advice as well as helpful feedback."

Staff received their Certificate in Practice Education at a ceremony in January and it is hoped over 100 more will complete the course this year.

Higher Education Programme Manager Paul Bates said: "We have been really impressed by the enthusiasm shown by our staff and it's also a great development opportunity for them. The course attracts 15 higher educational credits from the University of Greenwich, which is also great if staff want to continue their studies."