Your current location:
BSc (Hons) Applied Paramedic Science, at the University of Hertfordshire
BSc (Hons) Applied Paramedic Science, at the University of Hertfordshire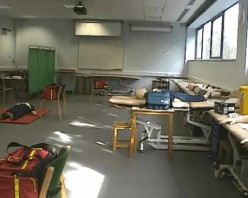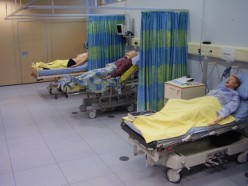 ....clinically focused development for paramedics

This newly developed part-time programme from the University of Hertfordshire provides continuing professional development opportunities, and academic awards, for registered paramedics with or without previous higher-education experience.

The programme has been designed to provide a flexible structure allowing students to step on and off where appropriate, exiting with the choice of a Diploma, BSc or BSc (Hons) in Applied Paramedic Science.

The programme is delivered by part-time study, with the following minimum periods of study, for a paramedic with no prior higher educational experience to achieve: a Diploma (Level 5 qualification) in nine months (with 14 campus attendance study days); BSc (Level 6) in 21 months; and BSc (Hons) (Level 6) in 33 months.

Foundation degree students 'topping-up' join year two, this allows them to obtain a BSc degree in a minimum of nine months or BSc (Hons) degree in a minimum of 21 months.

The design of the programme reflects the changing environment and variety of roles available to paramedics in the urgent and emergency out of hospital care environment. It has been designed around the themes of advanced patient assessment, examination, decision making abilities to select appropriate management strategies and clinical leadership. In combination these skills will equip paramedics with the variety of attributes contemporary paramedical practice demands. A further driver underpinning the programme was the requirement, identified by previous students and Ambulance Trust representatives, that paramedics require educational opportunities to provide effective, high quality care in innovate ways. Our development is to ensure graduates possess the enhanced knowledge and skills so they can respond to contemporary and future out of hospital care provision.

Modules, and method of delivery, have been specifically designed to meet paramedics' specific learning requirements for their clinical practice.

Module content is structured to allow the acquisition of effective advanced practice abilities by students. Students can control their academic studies through innovative blended learning approaches to education delivery; this combines off campus e-learning opportunities, with campus attendance to support academic and clinical development with the guidance and support of expert tutors, using our dedicated paramedics skills and patient assessment laboratories. Teaching is delivered by specialists from the Division of Paramedic Sciences; predominantly members of the paramedic profession, supported by other expert allied health professionals.

Student's participation in this programme of study will provide advanced clinical knowledge, developing characteristics which allow this to be applied in their practice and disseminated appropriately to their colleagues. Students will gain the abilities to address challenges faced in their evolving role, providing effective out of hospital care; graduates can respond reflexively to emergent influences upon their contemporary clinical practice.

For further information please see the programme website:
www.herts.ac.uk/courses/Bsc-Hons-App-Para-Sci.cfm
or contact:
Matthew Catterall, Programme Tutor
Email:m.catterall@herts.ac.uk
Telephone 01707 286187).