BBC Ambulance filming begins
BBC Ambulance filming begins
Monday, 14 February, 2022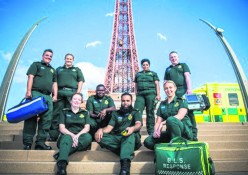 • Some of the cast from the previous Ambulance series, filmed in the Northwest
A prime-time documentary series will follow frontline staff as they provide vital emergency care in the Northeast.
'Ambulance', the BBC's BAFTA-award winning series, has chosen the Northeast for its latest series. Filming is taking place across the Northeast from January until April 2022.
Each episode follows the shifts of the call-handlers and ambulance dispatchers in real time as they make decisions in the highly pressurised environment of the control room, about who should get care and when. Once the decision is made and the job is dispatched cameras follow the ambulance crews as they race to provide emergency care and save lives on the ground.
Any patients and their families filmed as part of the documentary will go through a thorough consent process.
NEAS Chief Executive Helen Ray said: "Working for the ambulance service is so much more than a job and I'm sure the dedication and commitment from each and every member of team NEAS will shine through every episode as they strive to give the best quality care to every patient they come into contact with.
"I hope it also serves to inspire our community, and encourages people living within the Northeast to consider joining our service."