From Boat Builder to Ambulance Clinician
From Boat Builder to Ambulance Clinician
Friday, 26 July, 2019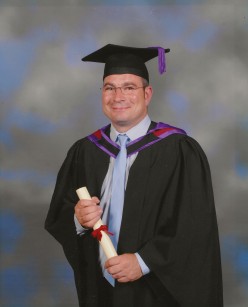 • IOW Ambulance Service Clinical Support Officer
Here at the Ambulance Life news desk we often report on how and why people from different walks of life decide to enter the pre-hospital care sector.
As highlighted elsewhere in this issue we know that many former military personnel are attracted and in London many Aussies also feel the pull.
This month we profile a former boat builder on the Isle of Wight, Graham Thompson now enjoying life as a Clinical Support Officer with the IOW Ambulance Service.
Graham said: "My interest in things medical began when my father died in 1991. It prompted me to take a first aid course with the St John Ambulance Service. At the time I was working as a boat builder with Souter's in Cowes, and shortly after I joined St John as a volunteer in my spare time. It was through this work that I first came in contact with the IOW Ambulance Service, when St John undertook some patient transport obligations for."
This initial experience inspired Graham to change career to full-time ambulance work, with his ultimate aim to become a Paramedic. With this in mind he brushed-up his academic qualifications at evening classes at a local college and applied for a job with the Patient Transport Service, then an integral part of the frontline aspect of the ambulance Service.
This attempt was unsuccessful, but undeterred he tried again two years later and was accepted part-time. Only 3 months later he was taken on full-time. Graham took a big step down in pay from boat building which shows his dedication and ambition to reach his goal of becoming a Paramedic.
After 12 months Graham took his next step by becoming an Ambulance Technician. This meant 3 months full-time training at the Chippenham Ambulance College and a further stint there for 3 weeks on an advanced driving course. 12 months probationary period later and Graham was a fully-fledged Ambulance Technician, a role which included some clinical care under the supervision of a Paramedic.
Only two years later, in 2004, Graham became a Paramedic himself. When the IOW Ambulance Service became an Accredited Training Centre, Graham was accepted for the first intake of Paramedic trainees. This meant another 3 months full-time training and stints in the Emergency Department, Theatre, and Coronary Care. He then needed to register with the Health and Care Professionals Council (HCPC) and he had reached his goal as a fully qualified Paramedic. This was a very busy period for Graham as his third son was born at this time.
Three years later and, although he'd reached his original career goal, Graham saw an advert on the station message board that got him thinking. It was for an Emergency Care Practitioner degree at Portsmouth University. After a mixture of full and part-time study he graduated in 2008 with a BSC (Hons) degree.
Graham commented "This post entailed more advanced clinical care and helped to prevent admissions to hospital. For instance, we can suture wounds and administer anti-biotics for chest infections, for example. If we helped a patient stay at home it was good for everyone; few patients want to visit hospital, the hospital has more time for serious cases, and there is a cost saving, too. I enjoyed the autonomy of this role, allowing me to both treat the patient and save them a trip to hospital. I also enjoyed my placement with a GP and shifts in the Emergency Department."
Although long exceeding his ambition of being a Paramedic, 2 years later Graham took on a new role for the Island, Clinical support Officer (CSO).
This meant providing clinical support to Paramedics. The role includes overseeing their training, making sure they are current with new procedures, drugs and equipment, and answering their clinical questions and observing them on shifts.
What's next? Starting in January, Graham will be studying the module 'Contemporary issues in pre-hospital care' from Cumbria University's MSc Enhancing Paramedic Practice, with the aim of going on to complete the full MSc.
All this professional development doesn't leave much spare time. What there is of it, Graham, married with three sons ranging from 14 to 32 spends in family activities. One of these activities was accompanying a son on a scuba diving course. In the process he became qualified himself, and his son went on to be a professional diver. His family also grew this year when he became a grandparent for the first time.
"I feel that much of my progression is down to the timing of courses, the opportunity to take them and the ongoing support of the Ambulance Service and the wider Trust who have supported me in terms of the availability of funding. This is now better than ever both academically and professionally, at all levels."