MoonBeam3 shines on UK ambulance market
MoonBeam3 shines on UK ambulance market
Tuesday, 18 June, 2019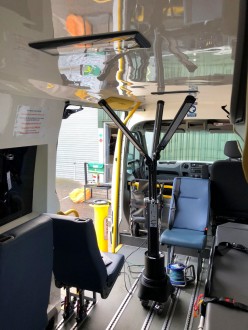 The time when cleaning an ambulance was a mop, bucket of water and disinfectant has been long gone and today in the UK, technology will soon be taking over to ensure the vehicles are infection-free.
This new technology led disinfection method uses short-wavelength ultraviolet (UV-C) light to kill germs; not only does it add to the safety and well-being of patients, but it is also improving ambulance front-line operations.
Leading the change is Zenith Hygiene/Diversey, which introduced the MoonBeam3 disinfection system last year to NHS ambulance trusts and private companies. It is a portable set of UV-C light bulbs, 5ft 9ins tall which, it is claimed can "deep clean" an ambulance in 60 - 90 minutes, a task which normally takes an experienced cleaner 4 hours to complete.
At a cost of circa £20,000 MoonBeam3 enables these life-saving vehicles to be back on the road much quicker than before, an important factor in these times when ambulance trusts are facing increasing demands on the service.
James Staniland, Director of Corporate Accounts - Medical at Zenith, which is now part of Diversey, the US cleaning and hygiene products company said: "MoonBeam3 is transforming the conventional method of 'deep cleaning' ambulances because it is quicker and more efficient. The results of trials by the NHS and private providers over the last 12 months have proved to be very satisfactory".
The emergence of disinfection technology comes at a time when the Care Quality Commission, the government's independent regulator of health and social care services, has toughened its inspection policy for ambulances with a focus on infection control. It has issued new guidelines for ambulances as well as paramedics, their clothing and wearing of gloves.
The ambulance sector represents only about 1% of the £185 million UK market for all types of disinfectants and what is now needed, is a legal standardised protocol for ambulance infection control, starting with personal hygiene.
Staniland says: "Every ambulance provider has its own 'deep cleaning' timetable and a variety of different disinfection methods which cannot be in patients' best interest".