Ballyclare sponsors the National Breathing Apparatus competition 2015
Ballyclare sponsors the National Breathing Apparatus competition 2015
Monday, 14 September, 2015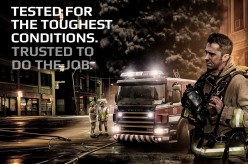 Ballyclare Limited is pleased to be sponsoring the National Breathing Apparatus Competition (NBAC) 2015 as a silver sponsor. The annual event, in its eighth year, will take place on Saturday 10th October 2015 at the Fire Service College in Moreton-in-Marsh. It will feature 21 fire and rescue teams with varying specialisms, including Ministry of Defence teams, from across the UK.
Each team will be faced with a live fire situation in one of three buildings designed to be as realistic as possible inside, for example, one building replicates a shopping centre complete with internal units. The teams all face fires with the same properties and environment with the help of a condition setter. Each team of five members is faced with a scenario of a property fire with persons reported inside. The team has five members who have 30 minutes to extinguish the fire and rescue any casualties. How they handle information gathering and dealing with 'witnesses' and 'paramedics' is also evaluated.
Credibility is the key for the competition with all assessors being currently serving firefighters with a specific rank or skills. Five assessors monitor every team; one assesses command and control, this assessor must be sector-competent in Incident Command and hold the role of at least Watch Commander. Two assess breathing apparatus wearers and one assesses the breathing apparatus entry control procedures. These three assessors must be current Brigade Breathing Apparatus Instructors. The final assessor monitors general fire ground procedures and this assessor must be an Operational Instructor from a brigade training centre. In addition there is an independent assessor at each venue.
The winners of the competition will have shown their technical and practical skills and dexterity, as well as knowledge and experience and are crowned champions at the evening award ceremony by incoming President of the Chief Fire Officers Association, Paul Hancock, Chief Fire Officer for Cheshire Fire and Rescue Service.
The voluntary Board that organises the competition is made up of six fire and rescue teams who all have an interest in breathing apparatus with their aim being to promote best practice in breathing apparatus.
Ballyclare is privileged to have been asked by the NBAC to sponsor their competitionas a recognised UK leading firefighter protective clothing supplier who are renowned for providing exceptionally high quality protective garments. We take our responsibility extremely seriously and we are proud to be trusted by fire and rescue services around the world to protect their firefighters in all situations.
We wish all the teams a safe and successful competition.
For more information on the National Breathing Apparatus Competition see their website www.nbac.co.uk.
For more information on Ballyclare, our products and services see our website ballyclarelimited.com