SP CELEBRATE 25 YEARS IN STYLE
SP CELEBRATE 25 YEARS IN STYLE
Tuesday, 05 August, 2014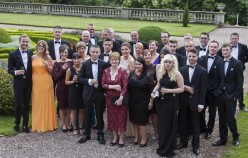 SP Services, a leading supplier of emergency medical and rescue equipment celebrated their 25th Silver Anniversary with a private party at the beautiful Weston Park, located on the Staffordshire/Shropashire boarder on Saturday 5th July 2014.
The SP team donned black tie and ball gowns to enjoy an evening of fine dining and entertainment in celebration of this magnificent milestone.
Over the past 25 years SP services has grown into a market leader in the emergency medical and rescue equipment sector, with a strong and loyal following of customers and advocates of the quality and service provided.
The party was a huge success and a chance for the team to come together and acknowledge all that has been achieved over the years.
"After 25 years I feel we have a lot to be proud of," said SP's Managing Director Steve Bray, "The next 25 years look bright for SP Services and I think I speak for everyone at SP when I say we're all looking forward to what we can do in the years ahead."