Warlingham Rugby Club installs community life-saving equipment
Warlingham Rugby Club installs community life-saving equipment
Wednesday, 23 July, 2014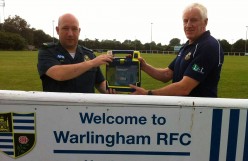 Warlingham Rugby Football Club has teamed up with South East Coast Ambulance Service NHS Foundation Trust (SECAmb) to install a vital piece of life-saving equipment.
The Automated External Defibrillator (AED) device will not only benefit those that use the club's facilities but also the local community. The portable defibrillator can be used to assist a person in cardiac arrest by providing an electric shock to restart their heart at no risk to the user. No medical training is required and the totally automated device is designed so that it can be used by virtually anyone.
According to statistics provided by the Resuscitation Council (UK), if a defibrillator is used promptly survival rates as high as 75% have been reported.
Warlingham Rugby Club is used every day either by rugby, netball, cricket or lacrosse players, as well as fitness clubs. The club is also used during the evenings and weekends for private functions. Also with around 1000 people on site during the summer for car boot sales it wasn't a difficult decision on whether a defibrillator should be installed.
Initiated by Warlingham's head physiotherapist, Clinical Sports Therapist Peter Mattison, together with professional assistance from SECAmb Emergency Care Support Worker John Waghorn, a Warlingham rugby player himself, the defibrillator was acquired and is now positioned in the main hall for easy access making it a recognised Public Access Defibrillator (PAD) site.
Mr Mattison said, "We hope that the equipment will never be needed, but it does give some peace of mind knowing that it's there not just for the use of the club but also for the local community as well. Even if just one person's life is saved that justifies its existence."
John added: "Working for SECAmb I was in a position to assist both organisations with a valuable asset, one I have seen the benefit of in my profession many times over."