Praise from MP is 'welcome boost' for crews, says ambulance chief
Praise from MP is 'welcome boost' for crews, says ambulance chief
Tuesday, 13 May, 2014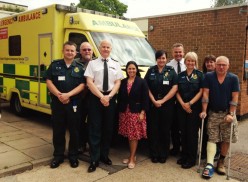 Services which work for patients and benefit the whole community was top of the agenda when Witham MP Priti Patel met ambulance staff.
Dr Anthony Marsh, who joined as Chief of the East of England Ambulance Service NHS Trust (EEAST) in January, invited Ms Patel to discuss how the service has moved forward and to meet a group of Witham staff, some of whom have worked in the area for many years.
Ms Patel was able to hear first-hand what she called "the tremendous work of the frontline teams" and asked what it was like to work at the station, and within the community. The staff and MP also discussed the 111 service, patient care, the need for efficiencies and the best way to provide for the Witham community.
Dr Marsh spoke about the national ambulance and NHS picture, what he wanted to achieve on the frontline for staff and patients and how recruiting 400 student paramedics and introducing new ambulances will help the service improve. Discussion then centred on integration of services locally, with the group giving an overview of frontline operations before Ms Patel was shown around an ambulance by North Essex General Manager Jason Gillingham.
Ms Patel said : "It's been a really interesting, refreshing visit to learn more about the changes that are taking place, and for which I've seen the benefits today.
"There is clearly a need for greater integration across all NHS services; the ambulance service is at the frontline of this and it has a huge role to play."
Following the meeting Dr Marsh said: "It was good to have this interaction with our local staff who do a fantastic job every day often in challenging circumstances. Seeing them engaging with, and being supported by, our local VIPs is very important in improving morale."