PROACT offers discount on Trucorp Truman Trauma System
PROACT offers discount on Trucorp Truman Trauma System
Friday, 02 May, 2014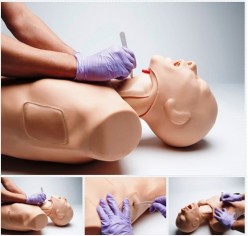 New to PROACT Medical is the Trucorp 'Truman Trauma' System designed to help to equip medical professionals with the necessary skills for dealing with a range of life threatening trauma situations.
Techniques which can be practised on the Truman Trauma include: chest tube insertion, needle decompression, needle and surgical cricothyroidotomy and percutaneous tracheostomy. Truman Trauma is available with or without breakout incisor teeth.
The Truman Trauma System provides an anatomically correct simulated human torso together with the renowned AirSim head for training the full range of airway management and resuscitation skills. The Truman Trauma System features replaceable tissues which help provide each trainee a lifelike and unique surgical experience.
In addition, Truman Trauma is ideal for training in Airway Management Skills, offering:
Anatomically accurate oral and naso pharyngeal AirSim airway
Larynx piece with palpable rings
Full use of supraglottic devices and BVMs
Single lung isolation capabilities
Combi and nasogastric tube insertion
PROACT have a full range of TruCorp training models available, so please call us for further information or to request a copy of our catalogue.
We are offering a special 15% discount on orders placed before the end of June 2014. To claim this, please call us on 01536 461981 and quote PN0514 on your order.