Second Life
Second Life
Friday, 11 October, 2013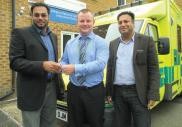 Left to right:- Mohammed Zubair - Founder of the Al- Madad Trust, Andy Watson - Assistant Head of Fleet Services at EMAS and Mohammed Habib - Treasurer at Al-Madad Trust
The East Midlands Ambulance Service (EMAS) has donated an ambulance to the Nottingham based charity Al-Madad Trust, which will go on to help the people of Pakistan.
Upon arrival in Pakistan the double crewed ambulance will provide a free service to transport the public to and from the local hospital which can be up to 10 miles away for patients. The charity has previously sent over six vehicles to the region. The vehicle has reached its end of life use in accordance to NHS policy meaning it can no longer be used by EMAS to respond to patients.
It will be decommissioned in line with NHS Protect guidance. Mohammed Zubair, founder of the Al Madad Trust, said: "On behalf of Al-Madad Trust, I would like to thank EMAS for their generous donation of an ambulance. Their kindness and generosity in helping the poor patients and needy in our community in Pakistan is sincerely appreciated."