Devon Air Ambulance Trust appoints new Chair of Trustees
Devon Air Ambulance Trust appoints new Chair of Trustees
Friday, 20 September, 2013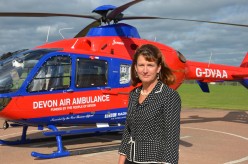 Devon Air Ambulance Trust (DAAT) has appointed Anita Newcombe as the new Chair of Trustees. She replaces Jackie Dawkins who has stepped down after four years in the role.
Anita, who runs her own media & PR business in Torbay, was formerly publisher and editor of the hugely popular Devon Life magazine and its sister titles in the South West. She has many years experience in the charitable sector, working in marketing, public relations and fundraising at Paignton Zoo and Torbay Coast & Countryside Trust. Anita lives in Brixham with husband Richard. They have four grown up children.
Heléna Holt, DAAT's Chief Executive, said: "We are delighted to welcome someone of Anita's calibre as Chair of Trustees. It is an important role with significant responsibilities including ensuring we comply with all regulations governing the management of a charitable entity, and that the charity is efficiently and effectively run to provide the best possible service to the people of Devon.
"Anita has already shown her commitment and capability as a trustee through her leadership of our public relations and fundraising committee and we know she will continue to support and inspire the board, staff and volunteers.
"I would like to take this opportunity to thank Jackie Dawkins for the part she has played in the development of DAAT since she became a Trustee in 2008 and Chair of Trustees in 2009. She has been instrumental in shaping the way in which the charity is governed, introducing significant improvements to the board's structure, planning, induction and training. Her experience of working with the charity sector and the business community, her excellent grasp of the role of the trustees, hard work and wise counsel has been invaluable to me personally as well as to the board and the charity."
Trustees of Devon Air Ambulance Trust are appointed for periods of 3 years, with a maximum tender of 6 years. The Chief Executive is responsible for the day to day operations of the charity, and is answerable to the Board of Trustees. DAAT anticipates naming two new Trustees before the end of the year.