There whatever the weather
There whatever the weather
Friday, 18 January, 2013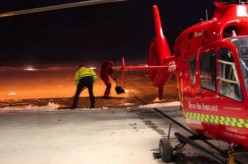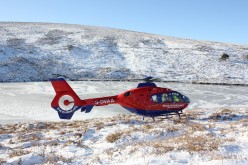 Devon's Air Ambulances are both on duty as normal today, despite the challenging weather conditions.

Always prepared, Nigel Hare, Operations Manager, working with his team of pilots and paramedics, already had a snow policy in place, ensuring that wherever possible the service would not face any disruption, as effectively it doesn't suffer from blocked or congested roads.

Nigel said "Our policy has now been in place for a couple of years and I am delighted to say that everything went to plan. Our senior pilot Rob Mackie, who is flying today, lives in Torquay, so took the decision, in light of studying the Met Office weather charts, to travel to our Exeter airbase last night, to ensure that we were ready to go online as normal. I had a 5.30am call with all of the crew this morning, to touch base on the current situation.

"We are working with Devon & Cornwall 4x4 Response. They are a local branch of a national voluntarily organisation, who have unpaid volunteers who are trained drivers in 4x4s to ferry people like our aircrew to essential jobs in poor weather. We would like to take this opportunity to thank them for their support.

"Thankfully this morning all of the crew were able to get to their respective bases under their own steam although one crew member had to take a detour to get to our North Devon base. A challenging journey and one that if had been undertaken just an hour later, would have been impassable. Of course we may need to call on the help of Devon & Cornwall 4x4 Response to get the crew home again!"

Helena Holt, Chief Executive of Devon Air Ambulance Trust "I am very proud of our teams, not just the aircrew, but also our hems staff (helicopter emergency medical services despatchers who deploy the helicopter from the South Western Ambulance Service Foundation Trust's control room), office staff and volunteers, all of whom play a vital part in ensuring Devon's Air Ambulances continue flying. It is reassuring that should you need essential medical treatment or transfer to hospital, that services such as ours are available in challenging times. Of course on days like this our hems team are also able to call on our friends from Search and Rescue, Coastguards and the Police aircrafts should Devon need additional air support. Reassuring all around for the community and businesses of Devon that support us so brilliantly."