Father and son trek in support of cancer charity
Father and son trek in support of cancer charity
Wednesday, 22 June, 2011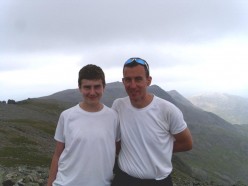 South East Coast Ambulance Service NHS Foundation Trust technician, Chris Treves, and his 14-year-old son, Sam, raised more than £1,000 by undertaking a gruelling trek for a charity close to their family's heart.

Chris and Sam from Chatham completed a two-day trek of four mountains, Scafell, Scafell Pike, Helvellyn and Skiddaw, in the Lake District on Friday, 3 June, in aid of for Families Against Neuroblastoma (FAN).

The charity was set up by Linza Corp after she sadly lost her son, Max, to the cancer which affects specialised nerve cells, called neural crest cells.

The money raised will be used to access pioneering treatment in Germany for families affected by the cancer as well as help fund family days out.

Neuroblastoma often occurs in one of the adrenal glands found above the kidneys and is the most common solid tumour in childhood, making up eight per cent of the total number of children's cancers.

Chris's daughter Molly was diagnosed with the cancer most six years ago. She had intensive treatment including high dose chemotherapy, a six-hour operation to remove the tumour, stem cell transplant and radiotherapy.

Chris and his family were introduced to FAN last year. The charity provides support and information for families who are affected by Neuroblastoma. The disease is hard to detect in many cases and many children are extremely poorly prior to diagnosis.

Chris said: "We managed to climb all four mountains within the weekend, with minimal injuries and all had a great time. The weather was great and luckily it only rained as we come off the last mountain.

"We would like to say a huge thank you to everyone who supported us. We are very grateful, and it's towards a great cause."