Prestigious honour for St John volunteer
Prestigious honour for St John volunteer
Wednesday, 29 December, 2010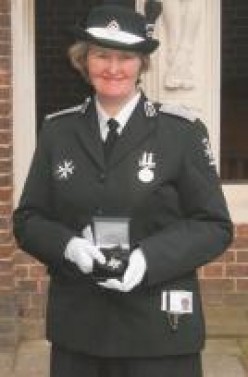 Prestigious honour


Sarah Farr, from Little Whelnetham, near Bury St Edmunds, has been recognised for her contribution towards first aid with St John Ambulance by being invested into the Order of St John.

The honour was bestowed at a special ceremony on Thursday 9 December in the Order's historic 12th century Priory Church in London's Clerkenwell.

People can only become members of the Order of St John if they have shown exceptional service to its key foundations - one of which is St John Ambulance, the nation's leading
first aid charity. The Order of St John is a Royal Order of Chivalry and each recipient is approved by Her Majesty the Queen, its Sovereign Head.

Sarah is currently deputy commissioner, operational training for St John Ambulance Suffolk and was presented with the Order's insignia by Rodney Green, the Prior of the Priory of England and the Islands, who was appointed in the prestigious position of Prior only last
month. The Prior is the Chairman of the Priory of England and The Islands (part of the Order of St John).