Falls project rises to the challenge
Falls project rises to the challenge
Monday, 15 November, 2010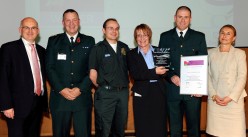 From left to right - Stephen Welfare - Director of Workforce, East of England SHA, Dave Fountain - General Manager, John Martin - Clinical Development and Innovation Lead, Pauline Pickering - Area Manager, Hertfordshire Adult Care Services, Neil Storey -
A pilot project is flying high after winning a category at the East of England Health and Social Care Awards.

The Innovations scheme between the East of England Ambulance Service and Hertfordshire County Council, the first of its kind in the country, came top in the 'Support for Independence' category. The award was presented on Tuesday, November 2, during a ceremony at The Wellcome Trust at Hinxton Hall, near Cambridge.

The scheme, which will now go on to compete for a national Health and Social Care Award prevents many unnecessary and costly visits to hospital for vulnerable people who have fallen at home. The award winning scheme involves social workers accompanying emergency care practitioners in their ambulance response cars.

Should the practitioner's clinical assessment reveal that an older person who has fallen does not need to be taken by the ambulance to A&E, the social worker is on hand to provide the necessary help to prevent a repeat fall and ensure that the person is safe and independent in their own home. This could be simply advice and information, or it may involve the installation of specialist equipment or a change to their care packages.

The judges said that they "admired the detail and understanding of issues that had come about through awareness of partners' pressure and demands. This project has delivered significant benefits to patients through its partnership working between social care and health care".

Richard Smith, Executive Member for Adult Care and Health, said: "I'm delighted the huge benefits of this excellent scheme have been recognised. "If someone who has fallen at home does not need hospital treatment, it is better for everyone if they don't go - better for them to avoid the inconvenience of what can be a stressful visit, better for the ambulance service to prevent unnecessary use of their resources, and better for us at the council to speak to the patient straight away about how we can best meet their needs in the future."

Chief Executive, Hayden Newton said: "I am delighted that this invaluable project has received this award. It is in recognition of the excellent joint working between our Trust, Hertfordshire PCT and Hertfordshire County Council. My thanks go to all concerned and they should be justifiably proud of what they have achieved."

John Martin, Clinical Specialist (Development and Delivery) for the Trust, said: "This is fantastic news and thoroughly deserved. A number of our patients have social care needs that increase their likelihood of having a fall. By working together, we are ensuring that future falls can be prevented by addressing both clinical and social care needs at the patient's home address."

The scheme, which is jointly funded by the council and the trust, is being piloted with one social worker accompanying one emergency care practitioner, in Dacorum, Watford, Three Rivers, St Albans and Hertsmere. It began on November 30, 2009, and if it continues to be successful, will be rolled out across the East of England.