Green lasers put lives in danger
Green lasers put lives in danger
Friday, 27 August, 2010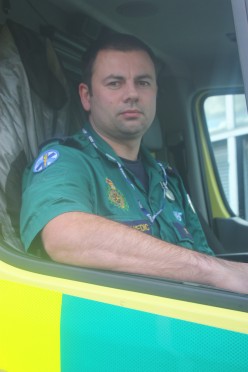 A Paramedic was blinded by a green laser beam when he was on an emergency call-out in Skelmersdale, Lancashire.

Chris Otterburn, 38, from Croston near Leyland in Lancashire, got into his ambulance shortly after 3am on 3 August and was heading out of Skelmersdale ambulance station to treat an assault victim when he was dazzled by a bright light.

What he describes as a sunburst of green laser beams lit up the ambulance cab as Chris turned out of the station car park and struck his left eye, leaving him completely blind for a few minutes. When his sight returned, although still blurry, he and his crew mate managed to continue their journey to help the patient who needed them.

On arrival at Southport District General Hospital, Chris's left eye was irritated and red, he had blurred vision and was experiencing a burning sensation. He was immediately given an eye test. Although medics said there would be no lasting damage, three weeks later Chris is still experiencing irritation and blurred vision with no signs of improvement.

He was given a second eye test last week and was told that his left eye was taking three times longer to focus than his right. Although the optician could not attribute this directly to the laser attack, Chris had never had problems with his eyes prior to the incident.

Speaking of the incident Chris said: "It was completely random and surprising. I didn't quiet comprehend what was happening at the time. I can only describe it as like looking into a really bright light and seeing vivid yellow circles. I imagined my left eye would have improved by now, but weeks on there is no difference - it feels like there is a film over my eye.

"I don't think people realise there are only a few ambulances to cover an area and there isn't an unlimited supply of paramedics so when one is out of action it can put lives at risk. I was unable to respond to emergency calls for an hour and a half after this happened whilst I had an eye test.

"Whoever did this didn't know what kind of emergency call out I was on, or who I was going to help - it could have been one of their friends or a family member."

Director of Emergency Services at North West Ambulance Service, Derek Cartwright, said: "This is one of a handful of green laser attacks on ambulance staff in Lancashire in recent months. Unfortunately, no culprits have been found but we do take these attacks seriously and will pursue and seek prosecution of anyone who commits this type of offence.

"Aiming a laser at someone is dangerous because the light is very strong and can travel for miles. To do it to someone while they are driving at speed under emergency conditions, possibly with a patient on board, could have dire consequences.

"I would like to ask these people how they would feel if someone they cared about needed the ambulance service but the nearest paramedic wasn't able to help because of instances like this."

A study by the National Institute of Standards and Technology learned that the lasers may give off high levels of invisible and potentially dangerous infrared light - enough to damage the retina before a person is even aware of it.