Operations centre staff commended
Operations centre staff commended
Friday, 12 February, 2010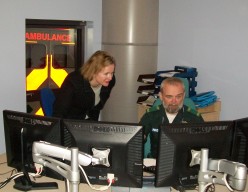 Victoria talking to ECP Steve Jones on the Clinical Support Desk


During the adverse weather conditions the East of England Ambulance Service experienced during the first few weeks of the New Year, Victoria Ford, Member of European Parliament for the East of England made a special visit to the trusts Bedford office.

During her visit, she spent time in the emergency operations centre and met up with operational and support staff. Simon King, interim general manager introduced her to the Bedford team, he said: " It was a pleasure to have Victoria visit the Bedford EOC and she was clearly impressed by the new centre here."

Victoria paid tribute to our trust, she said: "Thank you to the ambulance service for the warm welcome you gave me during the snow season in Bedford. I was enormously impressed to hear how you had coped in the highly treacherous weather conditions and despite the extra pressures to see how calm and professional everyone was in the call centre."

Hayden Newton, Chief Executive said: "We are delighted that Victoria took time out of her busy schedule to visit this trust to discuss a number of topical issues relevant to her work as a Euro MP."