Welsh Ambulance Service & Zoll make history
Welsh Ambulance Service & Zoll make history
Wednesday, 27 August, 2008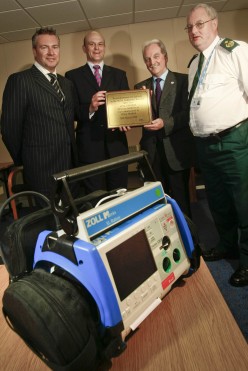 The Welsh Ambulance Service has helped make a piece of history due to a special delivery from a medical supplies company.

Thanks to the Trust's long standing partnership with resuscitation solutions pioneer ZOLL, both organisations had cause to mark a special occasion.

ZOLL Medical have been operating for 30 years to help advance the practice of resuscitation to support organisations such as the Welsh Ambulance Service. The Company sells its products in 140 countries all over the world.

Representatives from ZOLL presented a plaque to the Welsh Ambulance Service, at the Trust's St Asaph headquarters, to celebrate the delivery of the 100,000th M Series defibrillator/monitor ever manufactured by the company.

At the presentation ZOLL's UK Managing Director, Mark Webster, who was accompanied by the company's EMS Manager, Steve Mather said: "I can certainly think of no better customer to take delivery of this landmark device, and we wanted to present the Trust with this plaque to mark the occasion."

Chief Executive Alan Murray explained it was an honour for the Trust to mark the special occasion of the delivery of an important piece of clinical equipment for emergency medical service staff.

He said: "We are extremely pleased to have received this honour from ZOLL. Defibrillators used by our staff can make that all important positive difference for a heart attack victim and I hope we can continue our relationship with this company to keep on improving how we treat cardiac patients."