Paramedics praised for life-saving actions Lord hails 'unsung heroes'
Paramedics praised for life-saving actions Lord hails 'unsung heroes'
Monday, 25 February, 2008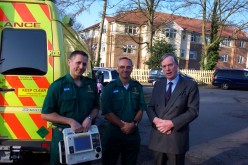 Paramedics Kevin Cover and Howard Newlan with Lord Astor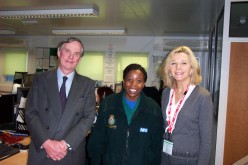 Lord and Lady Astor with call operator Fadziso Sivasithamparam, who took the emergency call

South East Coast Ambulance Service NHS Trust clinicians have been hailed as the unsung heroes of the NHS after saving the life of a Lord.

Lord Astor of Hever from Westerham has praised the work of two paramedics who saved his life after he suffered a heart attack at his home on New Year's Day.

Paramedics Kevin Cover, based in Caterham, and Howard Newlan, based in Godstone, were called to the Conservative peer's home because he was experiencing prolonged chest pain.

Lord Astor (61), Shadow Defence Minister, said, "I thought it was indigestion. However, the pain didn't go away and I started feeling more unwell. Realising this was something more serious, I called an ambulance.

"I remember feeling enormously relieved when they arrived. Straight away their consummate professionalism inspired a lot of confidence."
While the paramedics were treating Lord Astor, he suffered a heart attack and stopped breathing.

Howard and Kevin quickly shocked his heart using a defibrillator before giving him thrombolysis - the first time that either of them had administered the treatment.

Kevin said, "Being able to provide such treatment to a patient and witnessing the benefits of it so quickly makes the job really rewarding. The drug definitely played a role in saving his life as well as the speed in which he recovered."
Lord Astor said, "They saved my life and I am very grateful to them. I feel that ambulance clinicians are the unsung heroes of the NHS."