First aid at 32,000 feet
First aid at 32,000 feet
Monday, 25 February, 2008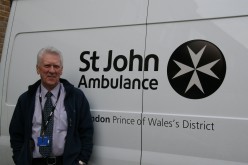 Keith Godwin, a trainer for St John Ambulance London (Prince of Wales's) District

A first aid trainer from West Ealing has been recalling the life-saving role he played in a dramatic emergency at 32,000 feet.

Keith Godwin, a trainer for St John Ambulance London (Prince of Wales's) District, was just a few hours into a holiday flight to Ibiza when a passenger on the plane began showing severe signs of a cardiac problem.

The 63-year-old, who works as a full-time trainer for St John Ambulance and is also a part-time volunteer, reacted to a commotion in nearby seats, and quickly offered his services.

"I was just starting to relax in preparation for my holiday, when I saw several cabin staff attending to one passenger," he said.

"I offered my services and found myself attending to a 57-year-old man who was showing all the signs and symptoms of a serious cardiac problem."

Keith took the patient's history and requested the oxygen therapy equipment from cabin staff.

"I was able to keep the man stable and reassured the captain that there would be no need to divert as we were only a short distance from Ibiza," Keith went on.

"Medics then came on to the plane as soon as we landed and I handed over to them."
Keith added, "What the experience taught me was that you just never know when your first aid skill will be called upon.

This really was a case of acting on the spur of the moment and doing what you can to preserve a life or prevent a condition from worsening."