Air Ambulance benefits from share of £1,000,000 charity donation
Air Ambulance benefits from share of £1,000,000 charity donation
Wednesday, 30 January, 2008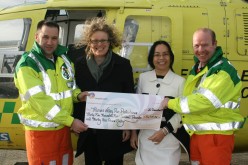 Simplyhealth to present cheque at RAF Benson

The Thames Valley & Chiltern Air Ambulance Trust (TVAC) is over £35,000 better off thanks to its share in a £1m charity giveaway.

The money is part of the £1m health and wellbeing group Simplyhealth invited its staff to give away giving its 1292 employees a massive £774 to spend with one of 15 chosen charities.

Of the £1,000,000 Simplyhealth employees donated £35,500.36 to Thames Valley and Chiltern Air Ambulance.

Staff had the opportunity to vote for one of five air ambulances in their region, in total £278,121.40 was donated to air ambulance charities.

The cheque was presened at RAF Benson on Friday 4 January.

The charity relies entirely on voluntary donations to help meet its running costs of £1.7 million per year.

Colin Lee, TVAC Chairman of Trustees said: ""What a fantastic way to start the New Year. We are extremely grateful to Simplyhealth and all its employees for this wonderfully generous donation.

"One of our objectives in 2008 is to foster closer relationships with the corporate sector and to demonstrate how supporting TVAC has many mutual benefits.

"Simplyhealth has led the way but we will be very happy to hear from any business no matter how large or small who would like to know more about supporting TVAC as part of a corporate and social responsibility programme."

Every year Simplyhealth donates significant sums to charity and worthy causes and there are many opportunities for employees to make a difference in their local communities. This is the first time though that every employee could do something so significant.

Simplyhealth Group chief executive Des Benjamin said, "When I walked around the office everyone was genuinely excited at the thought of donating such a large sum. The atmosphere has been incredible.

Simplyhealth is about making a difference to people and I think that we have made a real difference to these charities and to all our employees."