Your current location:
Have you seen the new SP Services web site yet?
Have you seen the new SP Services web site yet?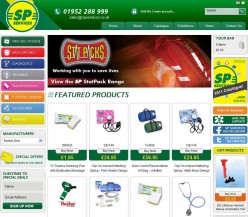 Over the past few months, SP Services have been busily working on a brand new web site. The new site was built from the ground up to offer a faster, easier to use experience offering an unparalleled range of products whenever you need them.

SP Services (UK) Ltd, the UK's leading International Supplier of Medical, First Aid, Ambulance Paramedic and Emergency Rescue equipment, have been on "the web" since the nineties, bringing a huge range of products to ambulance professionals. The SP Services website was significantly upgraded in 2004, causing a huge upsurge in the sites popularity. The demands of the modern web user however, with the need for a higher level of security, have led to the creation of a brand new website which is already proving extremely popular.

The new site, which went live in early June, features a new clean interface with a more logical category system. The advanced search engine makes finding the items you need a breeze. The site is updated on a daily basis with new products been regularly added as well as older products being revised.

Over the next few months SP Services will be running a series of special offers and discount codes on the web as well as adding new and exciting features, so keep an eye on the site.

You can view the new SP Services website at www.spservices.co.uk.

To stay informed of the latest news and offers from SP Services follow us on:

Facebook: www.facebook.com/SPServices

and Twitter: www.twitter.com/SPServicesUK

If you need any additional advice or would like to speak to one of our product advisors call us on 01952 288 999.