Your current location:
Bariatric passenger thanks ambulance crew
Bariatric passenger thanks ambulance crew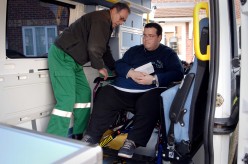 A man who has lost over 10 stone in weight in the last seven months has personally thanked the Suffolk ambulance crew who have been providing him with specialist assistance to Addenbrookes Hospital.

Adrian Webb, 35, has been regularly using a bariatric-capable vehicle designed and manned by St John Ambulance Suffolk to get him to routine medical appointments concerning his weight.

The vehicle is one of three operated by St John Ambulance Suffolk which is able to carry particularly large patients.
Adrian was placed on a special liquid diet in June last year, at the weight of 44.09 stones. Since that time he has required frequent transportation which could not have been delivered by a 'normal' NHS ambulance.

St John Ambulance were tasked to assist with his requirements and Adrian, who lives in Colchester, has this week taken his last journey with the crew as a bariatric patient. Now at the weight of 33.7 stones, he is able to begin using a more widely available vehicle for his hospital visits.

"Just seven months ago I was unable to move anything more than a very short distance under my own steam and it would have been impossible for me to use public transport," he said.
"Now I find myself more than ten stone lighter and am approaching the point where using public transport to attend my appointments is something I will be able to manage.
"Without the help of St John Ambulance getting me to Addenbrookes so many times in the last few months everything would have been far more difficult."

St John Ambulance has also invested in other bariatric-specific equipment to assist in attending patients like Adrian. This equipment includes a wheelchair capable of taking a patient of 298kg, a lifting device, and a specialist stretcher.