Your current location:
More paramedics for air ambulance
More paramedics for air ambulance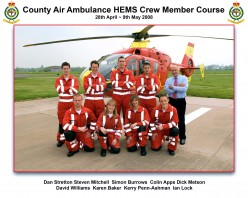 County Air Ambulance has been on a recruitment drive to boost the number of paramedics serving at its three helicopter bases across the Midlands and Welsh border region.

Twelve new paramedics recently completed their basic air competency training and have been recruited to flight operations with County Air Ambulance. The successful candidates come from all over the West Midlands and will join a team of paramedics, periodically called upon to serve with the helicopter service. Another three paramedics were recruited to full-time positions with the air service.

Ian Clayton, County Air Ambulance Air Operations manager is pleased to have a full compliment of staff at his disposal. "Every year we look to recruit new faces to the air service," he said. "This time around we were delighted by the calibre of staff coming forward to serve with County Air Ambulance. At the end of a lengthy recruitment process, we selected twelve part-time and three full time flight paramedics for duty at our three bases in the region."

County Air Ambulance recently commenced operations over a 16-hour period with two flight crews operating a shift system at the RAF Cosford base, covering the operational area between the hours of 6am - 10pm, every day of the week.