Your current location:
First Driving Course - Great Success
First Driving Course - Great Success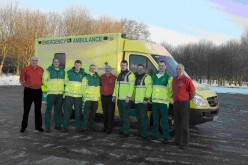 From Left to Right: John Dunne (EMSTAR), John Gaughan, Paul Murray, Tony Fields, Gerry Buckley (EMSTAR), Paul Keane, Bertie Dowling, Paul Doherty, John Kenny (EMSTAR)



Under its contract with the HSE, EMSTAR has recently completed the first PHECC accredited driving course at the National Ambulance Training College in Dublin.

The course took place in December 2010 and despite the severe adverse weather conditions the candidates received in depth instruction in a wide range of driving skills including actual drives under blue light conditions.

The driving aims and objectives of the PHECC driving course are firmly rooted in the provision of high quality patient care. The prevention of deterioration and the ability of clinicians to effectively manage the patient during transport are at the root of the course.

Safe, smooth, systematic driving and the ability to make progress when safe and appropriate to do so are the main aims of the course.

The smooth use of all vehicle controls, excellent observation of the road to identify hazards and application of the system to negotiate hazards safely form the main objectives of the programme.
This was backed up by a sound knowledge of the Rules of the Road, Roadcraft (The police driving manual) and other driving theory.

The course was delivered in a range of vehicles and in varying road and traffic conditions.

All candidates were successful and achieved a high standard of driving and theory knowledge.

PHECC certificates were issued by Macartan Hughes; Head of Education and Competency Assurance.

Richard lane; Director of Training Services for EMSTAR said. "Driving is a key feature of patient care. Getting to the scene quickly yet safely; driving smoothly to prevent deterioration and assisting clinical staff in the back of the vehicle are fundamental to patient care and comfort. Driving is not just about getting from one point to another as quickly as possible. The first time a clinician drives on blue lights unsupervised, should not be the first time they do it. The safety and staff, patients and other road users will be enhanced with pre-operational driver training. We are delighted at the outcome of this first course and we are looking forward to future courses throughout 2011.

For further information on the courses available please contact Richard Lane on 07894 909608.