Launch of crisis response journal village and conference at INTERNATIONAL DISASTER RESPONSE EXPO
Launch of crisis response journal village and conference at INTERNATIONAL DISASTER RESPONSE EXPO
Wednesday, 13 November, 2019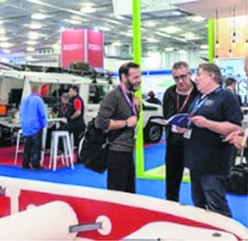 International Disaster Response Expo and its lead media partner, Crisis Response Journal recently announced it will be strengthening the partnership further to full 'Event Partner status' at its forthcoming event this December. This will include a Crisis Response Journal Village, which will feature a collection of companies that are bringing technological breakthroughs and innovations to the humanitarian aid and disaster relief sector, as well as The Editorial team helping execute the content of the International Disaster Response Conference and curate their own Crisis Response Theatre.
"We are excited to collaborate with Crisis Response Journal to launch an international hub for innovation and partnership building. With both our knowledge and expertise in the field of global crisis and emergency response, this is a great opportunity to connect people, products and ideas and provide access to markets and knowledge," comments Tristan Norman, Group Event Director.
"The Crisis Response Journal Theatre will look at the two most important elements of resilience and disaster planning," says Emily Hough. "People and where they live are at the heart of everything that the sector does, and we will be looking at how to improve societal resilience, wellbeing and security.That is why we have chosen 'People and Places' as our theme – whether looking at urbanisation and
how the technology of the future will be making cities and conurbations better places to live, or protecting employees and the wider public in the face of increased risks and hazards."
Participants will be able to join in live debates, discussions and workshops, all aimed at encouraging genuine partnerships and collaboration between governments, authorities, the private sector and, of course, people.
There are sponsorship and partnering opportunities available for the Crisis Response Journal Theatre: "This is an exciting opportunity, bringing CRJ 'to life', connecting the whole community and discussing the matters that really matter most."
The event is expected to attract more than 5,000 visitors from 85 countries representing the full spectrum of disaster response management from preparing, responding, protecting and recoveringfrom man-made or natural disasters.
International Disaster Response Expo is taking place on 3-4 December 2019 at Olympia London, UK.

• Registration is now open so get your free ticket and save £99 entrance fee here:
https://idr-2019.reg.buzz/idr-crj