Mike Tindall joins Bike4Life Ride Out
Mike Tindall joins Bike4Life Ride Out
Wednesday, 17 April, 2019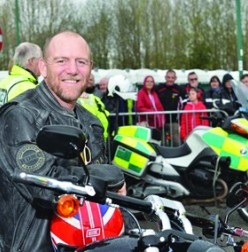 • Mike Tindall MBE
Former England captain and rugby World Cup winner, Mike Tindall MBE, is joining Midlands Air Ambulance Charity at its popular Bike4Life Ride Out and Festival this April.
On average, a biker is airlifted in the Midlands region every four days. As one of the charity's supportive ambassadors, Mike is attending the Bike4Life Ride Out and Festival, which is taking place on Sunday 28th April, for the second year, to highlight how vitally important the Midlands Air Ambulance service is in an emergency.
Now one of the UK's largest charity motorcycle ride outs, this is a great day out for all, while emphasising the importance of riding safely. Thanks to the biker community and wider general public who attend the festival, support for the event has grown year on year, and in 2018 raised over £87,000, funding 35 air ambulance missions.
On the day, Mike will ride a Harley Davidson as he leads over 3,500 bikers on the 23-mile ride out. Motorcycle legends, Carl Fogarty, Neil Hodgson, Steve Parrish and Dougie Lampkin, and the charity's own chief executive, Hanna Sebright, will also lead the Bike4Life ride out.
Hanna Sebright stated: "We are looking forward to welcoming Mike back to Bike4Life, a major annual event our calendar. The profile that Mike's support brings to Bike4Life helps the charity showcase the lifesaving value of our air ambulance service to bikers, and we are truly grateful for his support."
Mike Tindall MBE said: "As a rugby player, and a keen motorcyclist, I'm all too aware of how important the air ambulance is. Should anyone be unfortunate enough to need them, the flight doctors and paramedics are able to bring advanced skills and equipment to an incident scene within a matter of minutes. In some cases, this can mean the difference between life and death."
Readers interested in participating should visit bike4lifefest.com. Tickets for the ride out are just £10 for bikers, and £5 for pillions, which includes access to the festival. Those looking to attend the festival only, entrance is £5, and children under 16 go free.