Lady Cumberlege Visits Labour Line at South Central Ambulance Service
Lady Cumberlege Visits Labour Line at South Central Ambulance Service
Thursday, 20 August, 2015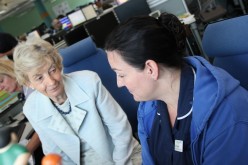 On Tuesday 18 August 2015 as part of her visit to maternity services in the South, Lady Cumberlege visited the award winning Labour Line at South Central Ambulance Service NHS Foundation Trust (SCAS) which is run in partnership with Hampshire Hospitals NHS Foundation Trust.
Whilst visiting the centre she spent time finding out about how the award winning service is delivered, had the chance to speak to the midwives and see the Labour Line in action.
The Labour Line is situated at the ambulance Emergency Operations Centre (EOC) in Hampshire and is staffed by qualified midwives who are available 24 hours a day on the phone to provide support and guidance to expectant mothers and their families.
The service, the first of its kind in the country, was launched 21 months ago in partnership with Hampshire Hospitals NHS Foundation Trust. The Labour Line provides additional support, advice and guidance to people over and above the clinical care and skills already being delivered by ambulance staff in emergency situations and that offered in the community setting. When women or their partners call the line they speak to an experienced midwife who is able to discuss birth plans, provide support and advice and make all the necessary arrangements for their birth.
Tony Peters, Head of EOC said "We were very privileged to receive a visit from Lady Cumberlege on Tuesday and it was a great opportunity to showcase the proactive partnership which has had a very positive impact on expectant mothers and their care. Should we receive calls relating to pregnancy or women in labour that come in via our own NHS111 or 999 services, we can pass these if appropriate directly to the experienced midwives on the Labour Line. This provides reassurance for the caller that they are speaking to an expert who knows exactly the right questions to ask and can offer on the most appropriate and safe response. It allows our emergency operations centre staff, and frontline paramedics, to have more time to respond to other non-pregnancy related emergency and non-emergency calls that come in."