NEW 2015 SP Services Catalogue Has Arrived!
NEW 2015 SP Services Catalogue Has Arrived!
Wednesday, 14 January, 2015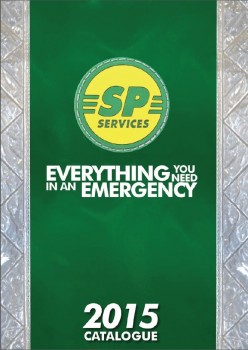 SP Services 2015 Catalogue has arrived, which we have filled with many new and updated products as well as some great savings on the day to day items and well known brand names that we all regularly use. To request your FREE copy of the NEW SP Services 2015 catalogue or download the PDF version now click here
2014 was one of our busiest years on record and it goes without saying that it's always an honour to work with so many great individuals, organisations and companies; we really do have the best customers in the industry, thank you. Bastion House continues to expand with more pallet racking in the warehouse and more people and desks in the offices so we are ready for another busy year.
Available from Spring 2015 will be our NEW Parabag range. Developed using the latest Blood Borne Pathogen (BBP) resistant fabrics, these bags have been designed by medics, for features also include rapid fix handles, robust access zips and a fluid resistant coating to ensure it is both functional and durable for your demanding needs.
Another innovation for 2015 is the NEW Donway Vacuum Mattress and Vacuum Splint Set. The mattress has a V-shaped body design that optimises its capabilities, whilst at the same time uses an enhanced internal chamber technology for superior stability. The mattress is easy to store and transport meaning it is a fantastic addition to any ambulance, rescue or evacuation kit. Please contact one of our Regional Sales Managers if you would like a demonstration.
The team at SP work tirelessly towards our core goal, to provide affordable, high quality medical equipment to the hard working people on the front line that need it. In 2014, during our 25th anniversary year, we worked closely with large
charities and NGO's in West Africa to deliver vital medical supplies and equipment to the brave men and women helping in the fight against Ebola. Our facilities at Bastion House enabled us to work around the clock to deliver on time and in full to meet the ever growing demand as the impact of the virus became clear. As the catalogue went to print, more of our brave NHS and MOD staff are on route to West Africa and our equipment will already be there at the clinics in time for their arrival.
As the world changes so does SP, which is why we have been busy developing our website usability and interfaces to allow you quick and easy purchasing whilst at work or on the move. Our website is accessible 24 hours a day, 7 days a week, for you to browse and order the latest products and special offers. We have installed a Live Chat function which allows us to better serve you by answering your questions and providing live advice on our product range. Our "1 Click Buy" checkout is optimised for both mobile and desktop use so that account holders can shop quickly and easily without the hassle of re-entering delivery and payment details for each order.
In early 2015 our website update will include real-time status updates on all our products, keeping you informed on stock availability and expected delivery times. More details of the real-time updates will be featured in our e-newsletters along with special offers, so subscribe today to stay up to date with the very latest from SP.
If there is anything that you cannot find in the NEW SP Services 2015 catalogue or you would like to discuss with our product experts, please do not hesitate to contact us with your requirements. We work closely with our suppliers and customers to source and deliver a wide range of products to meet your needs and expectations, in doing so we have received consistent high praise for our quality and efficiency. 2015 is set to be an exciting year for SP Services and we look forward to working with you to deliver the products and service you need.
To request your FREE copy of the NEW SP Services 2015 catalogue or download the PDF click here : http://www.spservices.co.uk/catalogue.php
5 ways to shop With SP Services
Call: 01952 288 999
Fax: 01952 606 112
Email: sales@spservices.co.uk
Web store: www.spservices.co.uk
Visit: Bastion House, Hortonwood 30, Telford, Shropshire, TF1 7XT
There are new offers every week in the SP Newsletter, sign up today and be the first to hear about the latest products, the latest offers and the latest news from the UK's top medical equipment supplier. Sign up now and your name will be entered into a prize draw to WIN a £50 SP voucher to spend on our web site. Don't delay, sign up today. www.spservices.co.uk/signup
To stay up to date with SP Services news, new product launches and the latest special offers:
Like us on Facebook – www.spservices.co.uk/facebook
Follow us on Twitter – www.spservices.co.uk/twitter
Follow us on LinkedIn – www.spservices.co.uk/linkedin
Watch us on YouTube – www.spservices.co.uk/youtube
Add us on Google+ – www.spservices.co.uk/googleplus
Pin us on Pinterest – www.spservices.co.uk/pinterest