New Year Honour for Trust Director
New Year Honour for Trust Director
Friday, 02 January, 2015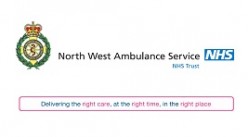 The North West Ambulance Service (NWAS) is very proud to confirm the award of the Queen's Ambulance Service Medal in this year's New Year's Honours List, to its Director of Operations, Derek Cartwright.
Derek, who has worked for the ambulance service for almost 30 years, is one five recipients of the medal, which is awarded to members of the NHS ambulance service who have demonstrated exemplary, distinguished and meritorious service.
Based at the Trust's headquarters in Bolton, Greater Manchester, Derek, regularly travels the length and breadth of the region to fulfill his duties and is the second NWAS manager to receive the award after Cumbria and Lancashire Head of Service, Peter Mulcahy in 2012.
Chief Executive, Bob Williams, who nominated Derek for the award comments: "I've known Derek for a very long time and his commitment to the ambulance service, and in particular its staff, is unending. He is a great asset to the Trust, a much valued member of the Board and this award is very much deserved. I'm very proud to call him a colleague and pleased he has been recognised in such a prestigious way."
Derek started his ambulance career in 1986, working on the patient transport service for two years before progressing into the emergency service. He continued to develop and rise through the ranks, taking on training and management roles before being appointed onto the former Greater Manchester Ambulance Service Board in 2003.
On establishment of the North West Ambulance Service in 2006, Derek was appointed to the post of Area Director for the Cumbria & Lancashire area and subsequently became the Director of Emergency Services for NWAS in 2009. Derek was appointed as Director of Operations in March 2014 after acting to this role since 2012.
Talking about his award, Derek comments: "I'm very proud to be awarded the Queens Ambulance Medal. I wish to thank the North West Ambulance Service for my nomination and also my family who have supported me over the years in the work I do, which at times can lead to a very disruptive family life, I can't remember when I last saw in a New Year at home with my family!
"My career with the ambulance service spans almost three decades and throughout that time I have worked with a lot of great people focused on providing the best possible service to the people of the North West. My acceptance of The Queens Ambulance Medal is on behalf of all those good people many of whom continue to work tirelessly to improve the quality of the service that we provide for our patients."
Derek lives in Bolton with his wife Joanne, has four grown up children and one grandchild who keeps him on his toes! He is a lifelong supporter of Bolton Wanderers, an active and Registered Beekeeper and, keeps chickens.