Essex & Herts Top Doctor Wins National Air Ambulance Award
Essex & Herts Top Doctor Wins National Air Ambulance Award
Friday, 21 November, 2014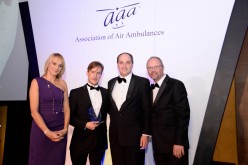 Dr Rik Thomas - Doctor of the Year 2014
Essex & Herts Air Ambulance Trust (EHAAT) is delighted to announce that their Pre-hospital Care Doctor Rik Thomas, won Air Ambulance Doctor of the Year at the national Air Ambulance Awards of Excellence 2014 on Monday night.
Rik's award is in recognition of his actionsfollowing an incident that required quick thinking and careful consideration in equal measure. Dealing with a complex patient in a hazardous environment, Rik's decisions and actions demonstrated his strong leadership, courage and compassion. Rik co-ordinated a team from various different organisations as they sought to help a patient in a confined and greasy space in the presence of large machinery with moving parts – and all this 30 metres above the ground. Not only was Rik focused on treating the patient there and then but also planned how he would communicate with the other agencies from 30 metres up. At the same time, he formulated a primary and secondary plan, establishing contact with surgeons at a specialist hospital, the on-call HEMS Consultant and the Regional Major Trauma Network. Ultimately he organised for the expert trauma surgeons to be flown to the scene to perform surgery on the patient, who subsequently made a good recovery.
Speaking of his win Dr Rik Thomas, said: "It's an incredible honour to receive such a prestigious award. It's an enormous privilege to be a member of such a dynamic and dedicated clinical team and I'd like to thank my colleagues from the bottom of my heart for nominating me. Delivering high-quality pre-hospital care throughout Essex and Herts is only made possible by the incredible work of the Charity staff and tireless fundraising by our dedicated volunteers, so I would also like to thank them for all their support over the last two years."
Jane Gurney, CEO of Essex & Herts Air Ambulance Trust, adds: "On behalf of everyone at the Trust I have great pleasure in congratulating Rik on winning this prestigious award. We are extremely proud of his remarkable achievement, which is thoroughly deserved. Rik has been a real asset to the HEMS Team showing great dedication and passion to the cause."
Awards host, BBC Breakfast presenter Louise Minchin and co-host, Red Dwarf's Robert Llewellyn handed over 10 Awards to some outstanding individuals and teams including Pilots, Paramedics, fundraisers and volunteers.
EHAAT were also finalists in two other categories; Critical Care Paramedic Louise Rosson for 'Paramedic of the Year' in recognition of her management of the scene at a gas explosion in Clacton and 'Campaign of the Year' alongside our partners in the region for a joint campaign to improve the tasking of the Critical Care Resources in the East of England.
Chairman of the Judging Panel, Guy Opperman MP, said: "I can safely say that our job this year was made incredibly hard by both the number and the high quality of the entries. The exceptional skills, care and devotion of all those who were nominated was amazing and humbling to all of the judges, and for many categories we said what a shame it was that there can be only one winner. On behalf of the judges I would like to thank all those who made a nomination, congratulate every single nominee, and salute the winners."