Kendal Army reserve Medic Faces California Test
Kendal Army reserve Medic Faces California Test
Wednesday, 12 November, 2014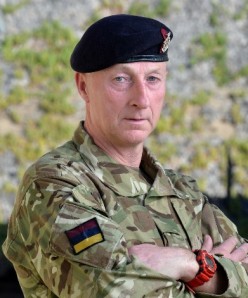 Lance Corporal Graham Park
An Army Reservist from Kendal has swapped his day job as a paramedic to train alongside US Navy personnel in sun-drenched California.
Lance Corporal Graham Park normally works for the North West Ambulance Service in and around his hometown, but in his spare time serves with 208 (Liverpool) Field Hospital as a combat medic.
Around 100 soldiers from 208 Field Hospital travelled to San Diego, California, where, for the first time ever, British medics were put through their paces by US Navy medics in an exercise designed to test how they perform in their new post-Afghanistan role.
Unlike civilian medics, Army medics must know how to build their own hospital from scratch and so the training in California has been invaluable, Graham said: "We've been building a field hospital from scratch on the dirt ground here; building the tents up, fitting them out with our equipment, installing the air conditioning and then running it as a hospital - practicing the treatment side of the job as well."
In recent years Field Hospital training has revolved around the purpose-built British military hospital which ran at Camp Bastion, in Afghanistan. But the profession is now returning to its original role of treating the sick and injured under canvas, at short notice anywhere in the world alongside partner nation medics – such as those from the US.
Exercise Integrated Serpent was run by 208 Field Hospital in conjunction with staff at the US Naval Expeditionary Medical Training Institute (NEMTI) at Camp Pendleton, San Diego. Graham said: "For the last ten years in Afghanistan we have been using a purpose built permanent hospital, now we are having to re-learn this temporary form which we are likely to be using in future campaigns."
Graham, 53, joined the Reserves ten years ago, and has served in Afghanistan, he said: "My family are used to me being away on these exercises and deployments, and they know I get a lot of being in the Army Reserve; I've had a lot of adventures with the Reserves and done a lot of interesting things; I've been to California twice, Gibraltar and learned to ski through the Army."
The 17 bed facility is home to a casualty reception area, an intensive care unit, an operating theatre, a ward and a laboratory as well as everything needed for staff to live on site. It is also capable of being sealed so as to treat casualties of chemical, biological and nuclear warfare.
Despite these complex demands, UK medics must be able to erect the hospital anywhere in the world within 16 hours and offer life-saving treatment immediately.
Captain Patrick Paul, of the US Navy's Medical Service Corps, who runs NEMTI, said the US-UK partnership came out of the medics' experience together in Afghanistan: "This is the first time we've hosted a large scale focus on medical elements from our two nations. From my experience in Afghanistan I know that our UK partners are just top notch, dedicated to the mission and more than capable. This opportunity to have these fine folks from Liverpool here has put us over the moon and made us so proud."
Medics like Graham, who work for the NHS in a civilian role, bring valuable skills and experience into the Army Medical Services. In return they are paid and get opportunities to train as Army Reservists at home and overseas, while their employers receive MOD support and the benefits of having an employee who receives extra training as part of their military role.
208 Field Hospital recruits from across Merseyside, Lancashire and Cheshire, its Commanding Officer Colonel Debbie Telford, herself a Reservist, said: "This has been an ideal opportunity to work with our American colleagues to revalidate our skills at building a tented hospital in any part of the world. For our newer people, having the experience of building the hospital, and seeing the simulated casualties go through it has proved a great learning opportunity. It's a privilege to be their Commanding Officer and see my guys build and operate this hospital; proving that they can be moved anywhere in the world and do it for real."
After the demands of Camp Pendleton there was time set aside for adventure training. Graham took part in kayaking, climbing and horse-riding in Nevada's Spring Mountains.