Pedaling Paramedic
Pedaling Paramedic
Wednesday, 23 July, 2014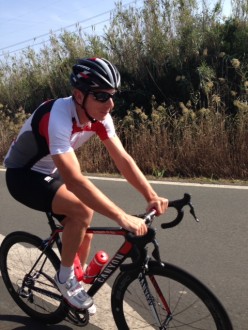 A North West Ambulance Service Paramedic has been selected to represent Great Britain in the amateur cycling World Road Race Championships this August.
Preston-based Mathew Lythgoe competed in the UCI World Cycling Tour's official qualifier in Copenhagen and finished within the top 25 per cent of his age group to qualify for the World Championships.
Mathew said: "I couldn't believe I had done it and would be representing Great Britain at the World Championships!
"I had given myself two opportunities to qualify: the first on June 1 2014 in the Copenhagen Gran Fondo, a 152km flat race. It was a fast and frantic experience with over 900 riders and I finished 20th in my age group and 90th overall.
"Not one to rest on my laurels, I also had the GF Eddy Merckx in Andenne Belgium, a totally different prospect with 18 climbs over 162km. Although the pressure was off, I still wanted to qualify again, which I did finishing in 10th place in my age group and 91st overall out of 1500 competitors."
The UCI World Cycling Tour (UWCT) is the official qualifier series for the UCI Amateur Road World Championships. A total of 15 events all over the world count as a qualifier event for this year's World Championships.
Mathew took up cycling aged 19 when he joined Ribble Valley cycling club where he raced for 12 years. During that time, he achieved his Elite licence, making him one of the top 200 ranked riders in the country and the rider with the most points in the Lakes and Lancashire division.
However, his cycling halted in 2006 due to family and work commitments before being diagnosed with hyperthyroidism in 2008.
Mathew said: "I tried to get back on the bike but it was a half-hearted attempt. A couple of years ago, I dropped off a patient at hospital and decided I would just step on the weighing scales and nearly broke them! I had never been as heavy; this was the motivation I needed.
"For 12 months, I changed my diet and did a little exercise helping me lose four stone! This fuelled my passion for bike riding again, but I needed another goal. I decided the goal would be to qualify for the amateur cycling World Road Race Championships and represent Great Britain in my age group.
"What better way to celebrate my 40th birthday! Roll on August."