Design for new Wiltshire Air Ambulance is unveiled
Design for new Wiltshire Air Ambulance is unveiled
Thursday, 22 May, 2014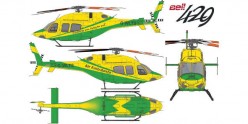 THE DESIGN for Wiltshire's new Air Ambulance was recently unveiled (22 April 2014) by the Wiltshire Air Ambulance Charitable Trust's board of trustees.
The helicopter, a Bell 429, which will arrive from Canada in October this year, will become operational when the current partnership with Wiltshire Police comes to an end in December.
The new helicopter will incorporate yellow and the distinctive Wiltshire 'green', which is used across the county on the Wiltshire flag. The belly of the helicopter will also carry a distinctive 'W', again representing Wiltshire.
"Developing the design of the livery for the new helicopter has been a challenging process. We wanted to ensure that the colour scheme not only reflected the county of Wiltshire, but is also sufficiently different from the current helicopter in recognition of this new chapter for the county's air ambulance," said Richard Youens, Chairman of the charity's board of trustees. "We have also had to take into account what would be acceptable to Bell Helicopters and develop a design which is both easily identified and meets industry standards."
The Bell 429 is the world's newest and most advanced light twin-engine helicopter in service, equipped with the latest in-flight technology. The helicopter will be the first Bell 429 to operate as an air ambulance in the UK. It has a top speed of 150 knots and a range of 400 miles making rapid response to any incident within the county achievable within minutes.
The aircraft is currently on the production line in Mirabel, where it will be adapted to make it capable of carrying one or two pilots, two or three paramedics as well as a patient on a stretcher. Prior to delivery the aircraft will be fitted out with the most recent Aerolite equipment to meet the highest Helicopter Emergency Medical Service (HEMS) specification. This autumn will see a period of testing and training for the crew in Wiltshire so that the new air ambulance is set to go live by 1 December 2014. The charity currently anticipates it will cost £2.5million a year to keep the air ambulance flying - £6,850 per day.