Ambulance Commemorates 25 Years of Saving Lives The Charity is Urging People to Show their Support
Ambulance Commemorates 25 Years of Saving Lives The Charity is Urging People to Show their Support
Thursday, 09 January, 2014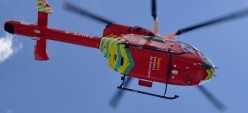 London's Air Ambulance, the charity that delivers an advanced trauma team to critically injured people in London, celebrates 25 years of service on 9th January 2014. Having treated over 30,000 critically injured patients in London and attended most major incidents, since inception, the charity relies heavily on the generosity of the people of London to maintain its service. In its 25th year, the charity is asking for your help to acquire a desperately needed second helicopter and to recruit additional pilots and fire crew to extend its daylight flying hours in the summer months, enabling the service to reach an estimated further 400 patients per year by aircraft.
Commenting on the milestone, CEO Graham Hodgkin said: "It is thanks to the generosity of the people of London that we are here today commemorating this milestone. 30,000 people have benefited from our life saving service and many of our critically injured patients have returned to their families and communities to live healthy lives.

"We are constantly looking for ways to enhance our world-leading service and by raising money to acquire a second helicopter and to recruit more crew we believe will be able to reach around 400 patients a year by air, simply the most effective way to deliver our advanced trauma team, giving them a better chance of survival. We urge the people and businesses of London to sign up as regular supporters to the charity to help us save more lives together."

Mayor of London, Boris Johnson said: "Hundreds of Londoners have their lives to thank for the crew's speedy and efficient treatment. I urge people living in our city to support this vital cause so that they may continue to save lives for many years to come."

Visit www.londonsairambulance.co.uk/donate to support the charity. By giving just £5 per month you can help maintain and enhance the service.
The charity was formed in 1989 following a report by The Royal College of Surgeons that stated too many people were dying on the streets unnecessarily. It has stayed at the forefront of medical innovation, delivering pioneering procedures, including roadside open chest surgery, anaesthesia and blood transfusions that have been adopted throughout the world.
Gareth Davies, Medical Director and Chair of the Trustees, who has led the service for 20 of its 25 years, said: "There are people who have survived serious injury in London that would not have in other countries. Trauma or serious injury is the biggest killer for people aged under 45, including children. It is down to the belief and passion from everyone who comes into contact with the service - employees, volunteers and supporters - that enables us to help save these lives and London should be very proud of this."

35-year-old Angela Barlow was hit by a car aged 11 outside her home in Plaistow. She had a life-threatening brain injury requiring immediate surgery. "No matter how careful you are, this can happen to anyone. When the same accident happened to my nephew, I realised how common this is and how vital the work of London´s Air Ambulance is. I made a miraculous recovery, I can´t imagine what our lives would be like if it turned out to be different. Our family will always be thankful to this life-saving charity." Angela was one of the charity's first patients and now has her own family.
Prime Minister, David Cameron said: "I would like to thank everyone involved in the vital work London' s Air Ambulance has done over the last 25 years to help deliver life-saving treatment to thousands of people. It is a charity that has become very close to the hearts of all Londoners, as I am sure the many dedicated people who help to run the service to keep it operating will attest."