Hope meets Paramedics
Hope meets Paramedics
Friday, 11 October, 2013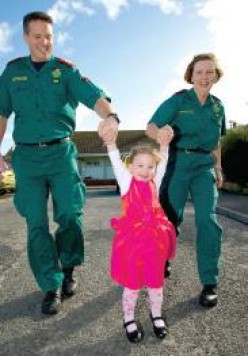 Hope Harrison-Mclean with Welsh Ambulance Service paramedics Harry Hepple and Jane Cole. Picture credit: Lisa Soar/Western Telegraph
An inquisitive toddler who swallowed a battery and was forced to undergo emergency surgery has been reunited with the Welsh Ambulance paramedics that helped to save her life.
Hope Harrison-Mclean was just 13 months old when she found a watch battery on the floor of her Pembroke home and promptly swallowed it but it became lodged in her throat. Mum Cheryl Harrison took her daughter to a minor injuries unit where staff dialed 999, and fast-acting paramedics who arrived minutes later were able to spot that Hope had an obstruction in her airway.
Cheryl, 24, said: "I'd left the room very briefly, and returned to find that Hope was bright red in the face. I knew something was wrong because she couldn't breathe or cry properly. "I suspected she might have swallowed something, perhaps a 5p piece. I was so scared of what might happen."
Paramedics Jane Cole and Harry Hepple rushed Hope to Withybush General Hospital, where an x-ray determined that a wandering watch battery was the cause of her breathing difficulty. The pair then transferred her to Morriston Hospital in Swansea, where she had surgery on her throat to remove the 2p-sized battery.
Hope spent 10 days recovering in intensive care at the University Hospital of Wales in Cardiff.
Jane, who has worked for the Welsh Ambulance Service for 11 years, said: "We recognized immediately that Hope had something stuck in her throat. "She was quite calm at first, but grew more and more distressed, so we tried our best to keep her reassured."
Cheryl added: "I'm so thankful to Jane and Harry for spotting the problem and acting quickly." Hope, now two, has since made a full recovery and has started part-time school.