Emergency services 'rescue' as real as it gets
Emergency services 'rescue' as real as it gets
Monday, 16 September, 2013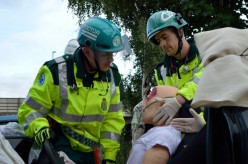 PHEM doctors James Chinery (left) and Gareth Roberts on the training exercise in Llandudno Junction.
PARAMEDICS and specialist doctors put their life-saving skills to the ultimate test in a mock crash involving two cars and multiple casualties.
The Welsh Ambulance Service joined forces with Betsi Cadwaladr University Health Board (BCUHB) for the training exercise, which saw quick-thinking crews spring to the rescue of three people seriously injured in a head-on collision.
But the injured were actually state-of-the-art manikins complete with blinking eyes that react to light, and a drug recognition system which identifies any drug injected into the veins of the right arm.
Junior doctors controlled the manikins using a touch screen tablet, and could even alter their heartbeat and make them talk.
The exercise in Llandudno Junction was led by Suman Mitra, Consultant Anaesthetist at Ysbyty Gwynedd in Bangor.
Dr Mitra said: "We have been practising these simulated scenarios so that in a real life situation it will become second nature when it comes to understanding the injuries, the skills we need, the procedures we follow and how we can work together to help patients.
"We have been fortunate to have such support from all involved departments and to have such an enthusiastic team."
Also taking part in the exercise were newly-appointed Pre-Hospital Emergency Medicine (PHEM) doctors James Chinery and Gareth Roberts, who have just embarked on a 12-month contract with the Welsh Ambulance Service as part of their specialist training.
The pair, who qualified as Speciality Registrars in Anaesthesia, can perform actions outside the remit of a paramedic, such as the administration of advanced pain relief, and surgical procedures such as the insertion of chest drains and surgical airways.
They also have the ability to administeranaesthetic drugs, and sedate apatient if they cannot breathe for themselves.
Gareth said: "This exercise was a great way to kick-start our time at the Welsh Ambulance Service. We're used to working in a hospital environment so the simulation really helped us to adjust to life on the frontline.
"It was a fruitful exercise, in which I learned a lot, and a good way to share best practice with our health board colleagues."