Visitors to Wales' leading festivals learn life-saving first aid
Visitors to Wales' leading festivals learn life-saving first aid
Tuesday, 03 September, 2013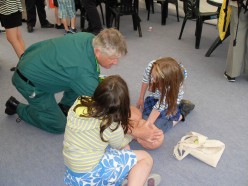 THE Welsh Ambulance Service has been teaching life-saving first aid to visitors of two of Wales' leading festivals.
Paramedics and Community First Responders demonstrated cardiopulmonary resuscitation (CPR) for crowds at the National Eisteddfod in Denbighshire and the Anglesey Show.
More than 150,000 visitors turned out for the week-long National Eisteddfod, while the two-day Anglesey Show drew more than 50,000 visitors, including VIP guest HRH Prince William.
Children who visited the engagement stand were gifted with quizzes, colouring books, stickers and key rings, as well as the bilingual booklet 'Jack tells you about the Welsh Ambulance Service.' They also had fun guessing the name of a resuscitation dummy for a chance to win a goody bag.
Adults were given the opportunity to share their experience of the service, including NHS Direct Wales, the 24-hour helpline staffed by nurses offering confidential advice about health, illness and the NHS, and could also pick up literature on NHS Wales' Choose Well campaign, which encourages people to use the right service which is right for their need.
All visitors were invited to join the Partners in Healthcare network, which aims to involve as many patients and members of the public as possible in the work of the Welsh Ambulance Service. The team strives to educate the public on ways to use health services appropriately, and promote healthy living messages.
Andrew Jenkins, Deputy Director Medical and Clinical Services/Consultant Paramedic atthe Welsh Ambulance Service said: "These are two of the largest festivals in Wales and between them attract thousands of competitors and visitors every year, so it's a fantastic platform for us to engage with visitors.
"The Welsh Ambulance Service sees engagement with the community as key to making people feel reassured and that we are listening to their needs.
"We hope that the CPR demonstrations were useful to visitors, and that they will put their newfound skills to good use in the event of a real emergency."