Toddler and family reunited with ambulance crew
Toddler and family reunited with ambulance crew
Tuesday, 03 September, 2013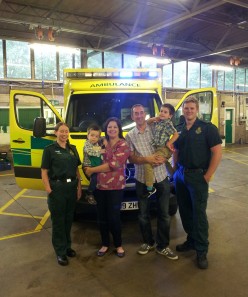 A toddler and his family from Reigate, Surrey, have been reunited with the ambulance crew who helped deliver him into the world.
Nathaniel Smith, now aged two and a half, arrived far quicker than expected to Mum Helen weighing 9 pounds 6.5 ounces on 18
January 2011 just 10 minutes after paramedic Sarah Poole and ambulance technician Sam Strutton arrived at the family home.
Nathaniel and Helen were joined by Dad Rob and four-year-old brother Joseph when the family met with Sarah and Sam at Redhill ambulance station recently.
Nathaniel and Joseph enjoyed being shown round an ambulance while Helen and Rob caught up with Sarah and Sam in somewhat calmer circumstances.
Helen, whose previous labour with Joseph lasted close to 48 hours, said: "I thought I had ages but then things suddenly moved on much quicker than I was expecting. Rob spoke to the midwife who said I should head into hospital but I couldn't get off the bed so she told him to dial 999. We've been meaning to get in touch with Sarah and Sam for ages to say thank you properly and also because we'd forgotten to take any photos on the day itself. It was so nice to see them and I'd like to send them some photos each year as Nathaniel grows up."
Rob said: "I think I remained fairly calm in the circumstances as I don't think I ever thought it was quite going to get to the point Helen delivered Nathaniel at home. I remember the call taker being really helpful and they told me an ambulance was on its way. It'll be great to show Nathaniel all the photos we've taken when he's older and I'd like to thank Sarah and Sam for everything they did."
Sarah, who, in an added twist to the story, started going out with Sam a couple of months after they delivered Nathaniel, added: "It's really nice to hear back from someone we've helped and it's been lovely to see how Nathaniel has grown up. I think he and Joseph had a lot of fun exploring the ambulance and we'd like to wish the whole family all the best for the future."