NHS North Hampshire CCG getting down to work in Basingstoke
NHS North Hampshire CCG getting down to work in Basingstoke
Tuesday, 03 September, 2013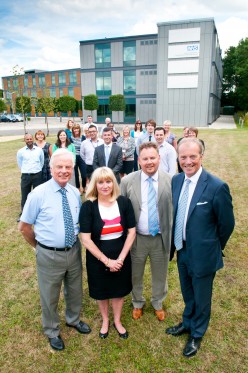 Dr Hugh Freeman, Lisa Briggs, Dr Sam Hullah of NHS North Hampshire Clinical Commissioning Group and Rupert Batho of Chineham Park
NHS North Hampshire CCG getting down to work in Basingstoke The GP-led group responsible for planning and buying health services across north Hampshire, NHS North Hampshire Clinical Commissioning Group, has moved to new offices in Chineham Park, Basingstoke.

Lisa Briggs, The CCG's Chief Operating Officer, said: "Our main reason for the move was that we needed the extra space for our 40 or so members of staff to be together on one site. We also needed some meeting rooms to be able to hold our governing body meetings in public, without going to the public expense of using money which should be allocated to health on having to hire rooms".
The CCG, which went live as a stand-alone organisation on April 1, is responsible for commissioning health services for 216,000 people in an area covering 316 square miles which includes Basingstoke, Hook, Hartley Wintney, Odiham and Alton. It has 21 member GP practices.

Lisa continues, "We were also using up the car parking space at Old Basing Health Centre and were conscious that this was probably inconveniencing patients. Our new office in Central 40, Chineham Park has plenty of parking and all the facilities we need.

"As an NHS organisation we are pleased to be occupying a building that is eco-friendly and has good communication links with all parts of North Hampshire. It is important to us to be accessible to both our membership and the general public alike".

For Chineham Park, this new customer is the first ever NHS organisation to take space on the park. Rupert Batho, Chineham Park's managing director, explains, "The CCG has grown quickly and we are pleased to be able to provide the room it needs to answer its responsibilities successfully. There are five Fortune 500 companies amongst our thriving community at Chineham Park and now we welcome one of the new types of organisation which are transforming our health service. "