Giant crane gets helipad off of the ground
Giant crane gets helipad off of the ground
Thursday, 08 August, 2013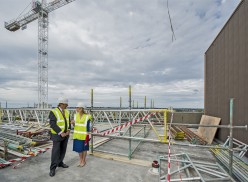 Robert Bertram Charity Director HELP Appeal and Heather Jarman Clinical Director for Trauma at St George\'s Healthcare NHS Trust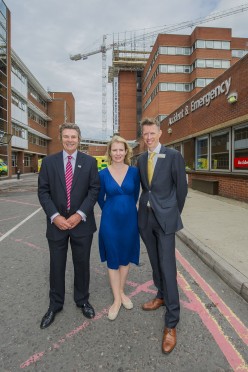 Robert Bertram Charity Director HELP Appeal and Heather Jarman Clinical Director for Trauma at St George\'s Healthcare NHS Trust and Miles Scott Chief Executive St Georges
The biggest crane in the UK has been assembled at St George's Hospital in Tooting where it is helping to build a helipad.
Partly funded by The HELP (Helicopter Emergency Landing Pads) Appeal, a 25m by 25m helipad will enable seriously ill patients to be brought by air ambulance for treatment at the hospital's Major Trauma Centre. A lift shaft in the middle of the wing is being built so that patients can be lowered quickly and smoothly into the hands of medical experts.
The helipad – which is due for completion in January 2014 - is being constructed by Miller Construction and will be the second hospital helipad in London and the first south of the river.
Announced in September 2012, with support from Mayor of London, Boris Johnson, the helipad will help save the lives of people living, working and commuting in the region. By significantly reducing transfer times to the Major Trauma Centre, patients with serious injuries, such as those caused by road accidents, shootings, stabbings, major burns and falls from height can be treated more quickly, rather than being taken to hospitals further afield, often flying over St George's.
Supporting the project during its announcement in September last year, Boris Johnson, said,"This is a fantastic project which will help save the lives of many Londoners and will improve our healthcare service. St George's Hospital will be only the second hospital in the Capital with a helipad and the first one south of the Thames which is why it is so significant.
"I commend the HELP Appeal for working tirelessly to ensure as many hospitals in London and across the country have the funding they need to build such life-saving facilities."
The HELP Appeal, which has provided a grant of £1 million towards the construction of the helipad at St George's Hospital, is a charity established by the County Air Ambulance Trust to help fund much needed helipad facilities at emergency departments across the country.
Heather Jarman, Clinical Director for Major Trauma at St George's Healthcare NHS Trust, said: "It's great to see the progress being made with the construction and the crane on site – a sure sign that a major step forward in the care of seriously ill patients is being made right here at St George's."
She added: "The hospital's reputation for its trauma care has grown, quite rightly, over the years. As well as the HELP Appeal and the Mayor, we have had the support of the local authority and residents to develop the helipad. Our Major Trauma Centre already has the facilities and staff to provide expert care and we look forward to being able to receive the most seriously injured patients to St George's sooner than ever before."
Robert Bertram, Charity Director, HELP Appeal, says: "It is always great to witness our projects coming together, and being able to see the first stage at St George's in action today has been truly rewarding. We hope construction runs smoothly and the helipad is up and running and saving lives the early part of 2014."
Chris Webster, Chief Executive, Miller Construction added: "The installation of this crane is a significant and highly visible milestone in the construction phase of this major project. When operational the new helipad will provide additional capacity to the skies of the capital that will help to save many lives. We will work to ensure this life-saving facility is delivered safely for the people of London."