Pedal Power
Pedal Power
Monday, 31 December, 2012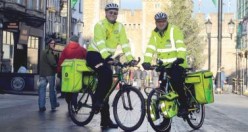 During December, the Welsh Ambulance Service teamed up with St John Wales to pilot a First Responder Cyclist (FRC) scheme in the centre of Cardiff.

The scheme saw FRCs use mountain bikes to cover the city's streets, pedestrian precincts and shopping arcades during the year's busiest weeks.

In many cases, the trained FRCs were able to reach patients quickly ensuring that any essential life saving skills were commenced immediately with each FRCs equipped with a mini defibrillator and a resuscitation kit. The Trust's Head of Service for the Cardiff and Vale area, Bob Tooby, commented: "The main advantage of this scheme is that the cyclists are able to weave their way through traffic and pedestrians and get to a patient's side quickly even if they're in one of the arcades or in a large store."

Keith Dunn, Chief Executive of St John Wales, said: "This is another great example of St John working in partnership with the Welsh Ambulance Service to benefit the wider community. Our volunteers dedicate thousands of hours each year providing vital first aid care in Wales. This new pilot scheme will ensure people in Cardiff receive lifesaving treatment quickly and effectively and we're really pleased to be involved."