Great North Air Ambulance Service Deploys ZOLL AutoPulse to Save Lives from Sudden Cardiac Arrest in the North East of England
Great North Air Ambulance Service Deploys ZOLL AutoPulse to Save Lives from Sudden Cardiac Arrest in the North East of England
Monday, 17 September, 2012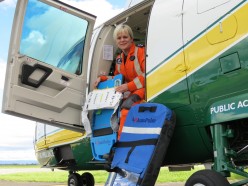 Cutting edge medical technology that "will save lives" has been introduced on the region's air ambulance service

Great North Air Ambulance Service (GNAAS) has equipped its aircrafts with the ZOLL AutoPulse® Non-invasive Cardiac Support Pump, an automated, portable chest compression device that will be used on all cardiac arrest patients. GNAAS is the first air ambulance service in the North of England to use this device, which delivers consistent, uninterrupted, high-quality chest compressions. The AutoPulse has been deployed since February.
The AutoPulse's easy-to-use, load-distributing LifeBand® squeezes the entire chest, improving blood flow to the heart and brain during sudden cardiac arrest.

The AutoPulse is especially useful when patients are being transferred from the ground to the stretcher, from the stretcher into the helicopter, and during flight to hospital. Blood flow can be continued throughout the rescue and rescuers freed up to focus on critical interventions.

"I don't normally get excited about medical equipment but this device is amazing," said Jane Peacock, Lead Paramedic at GNAAS. "The AutoPulse will save lives. We have used this device a couple of times now and we are seeing great results. We have even witnessed return of spontaneous circulation on patients whose hearts had completely stopped."

"Great North Air Ambulance Service is to be commended for deploying this life-saving equipment on its air ambulances in an effort to optimize chances of survival from sudden cardiac arrest," said Jonathan A. Rennert, President of ZOLL. 'The ability to provide consistent, uninterrupted chest compressions, especially during patient transport, is a critical aspect of quality CPR essential to saving lives and advancing resuscitation."