Public and staff recognised at annual awards
Public and staff recognised at annual awards
Monday, 22 November, 2010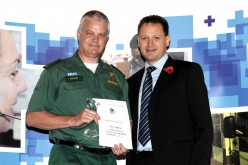 David Hopkins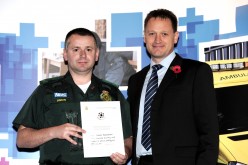 Simon Matthews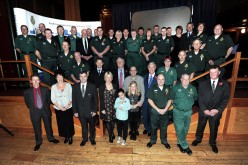 A South East Coast Ambulance Service NHS Trust paramedic, who was involved in persuading three people not to take their own lives off Beachy Head, has received the employee of the year award.

Dave Hopkins, based at Eastbourne ambulance station, was presented with the award at the Trust's annual awards ceremony for the east of the Trust's region held at the Salomons Centre in Tunbridge Wells on Thursday, 11 November.

Within the space of four months Dave was called to Beachy Head and was involved in helping three very vulnerable people.

One was a young man who had a career in the armed forces, another a mother and the third a mental health patient from outside the area.

Dave said: "I'm very honoured to have received this award but I feel that I can't take all the credit. Other organisations such as the chaplaincy service and police are equally involved in helping and winning the trust of these people who are clearly in a very vulnerable and distressed state.

"We spent considerable time with each of these people winning their trust and finally persuading them to reconsider. I hope that we made a difference and they overcome their issues but unfortunately we often do not get to find out what happens."

Dave was nominated by his station manager, Tim Fellows, who said: "With two of these cases, David took a leading role, gaining the confidence of the patient to the extent that he led them back from the brink. In the third, he supported two highly-trained police negotiators, always adopting an extremely patient, professional and caring approach. He clearly deserved to win this award."

Also to recognised were sisters Niamh and Darcy Bradbury from Rotherfield who received public chief executive commendations for putting in an emergency call after their mum Jo fell ill.

Simon Matthews based at Maidstone ambulance station received a chief executive's commendation. He was recognised after he bravely disarmed a man branding a knife.

Simon and his colleague had been called to an emergency in Maidstone in January. When they arrived they were faced with a man who was very distressed.

The patient had taken a significant overdose, coupled with a large amount of alcohol. It was clear the patient needed to go to hospital.

The patient became very agitated at the suggestion of going to hospital and took out a knife. He threatened to use it if forced to go to hospital.

Simon said: "He was clearly distressed and very aggressive. I spent about five minutes talking to him and building up trust between us before taking the knife from him.

"Looking back it was a very frightening experience but when you are there dealing with it, you are on auto pilot and if I walked away I don't know what would have happened to him."

The award ceremony also recognised the dedication of staff who have been in the NHS for more than 20 and 30 years as well as employee of the year. Queen's Medals for long service and good conduct were also presented by the Deputy Lord Lieutenant of Kent, Lord Paul Condon, to staff that have completed 20 years service in a front-line capacity.

Chief SECAmb Chief Executive Paul Sutton said: "Our awards provide us with a valuable opportunity to recognise the tremendous achievements of our staff during the year, in a range of roles throughout the organisation.Our staff are without doubt, this organisation's greatest asset.They work extremely hard in often difficult circumstances to provide the very best levels of care to our patients.

"I am also delighted that our awards provide us with an opportunity to recognise members of the public who have gone out of their way to support our staff and provide valuable assistance when needed. I know that I speak on behalf of all staff who are tremendously grateful for the help received at the scene of a difficult incident."