Falls project scoops national award
Falls project scoops national award
Monday, 22 November, 2010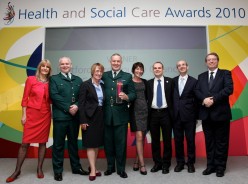 from left to right, Presenter Lynn Faulds Wood; Graham Clements, Emergency Care Practitioner for East of England Ambulance NHS Trust (EEAST); Pauline Pickering, Area Manager for Hertfordshire County Council; Dave Fountain, General Manager for EEAST; Jacki
An innovative project which helps older people who have fallen at home has won a national award.

The Innovations scheme between the East of England Ambulance Service NHS Trust and Hertfordshire County Council, the first of its kind in the country, came top in the 'Support for Independence' category at the Health and Social Care Awards. Staff discovered they had won at a ceremony on November, 18 at the Arena and Convention Centre, Liverpool.

The scheme, which prevents many unnecessary and costly visits to hospital for vulnerable people who have fallen at home, was competing after winning a category at the East of England regional awards earlier this month. It involves social workers accompanying Emergency Care Practitioners in their ambulance response cars.

Should the practitioner's clinical assessment reveal that an older person who has fallen does not need to be taken by the ambulance to A&E, the social worker is on hand to provide the necessary help to prevent a repeat fall and ensure that the person is safe and independent in their own home. This could be simple advice and information, or it may involve the installation of specialist equipment or a change to their care packages.

The scheme beat off stiff competition from other regional finalists from across the country. Bernard Crump, chief executive of the NHS Institute and co-chair of the national judging panel, said: "This particular project is highly innovative and original and is simple in its design and execution. It has had a clear impact on outcomes for local people, as well as improving the system and use of resources. The judges particularly liked the fact that the project is sustainable and has the potential to be spread to other areas."

Richard Smith, Executive Member for Adult Care and Health, said: "It was an impressive achievement to win a regional award, but to go one step further is testament to the hard work of staff who are delivering the huge benefits offered by this excellent scheme.

"Not only does this project mean that people avoid the inconvenience of what can be a stressful hospital visit, it benefits the ambulance service by preventing unnecessary use of their resources. It also allows us at the council to speak to the patient straight away about how we can best meet their needs in the future."

Dave Fountain, general manager for the East of England Ambulance Service Trust (EEAST), and Pauline Pickering, Area Manager for Hertfordshire County Council, played key roles in setting up the project and attended the awards. They said: "As a team and in the spirit of partnership, we are honoured to have been selected for this national award. The patients who benefit from this gold standard of service and our organisations are indebted for the support NHS Hertfordshire and Hertfordshire County Council have given to us.

"Our thanks go to our own organisations and teams who allowed this innovative quality service to develop and grow. It is fantastic to see how impressed patients are when we inform them that the care they require when they have fallen will come to them, and their needs - both medical and social - will be met, usually in their own home, instead of having to convey them to hospital."

John Martin, EEAST Clinical Development and Innovation Lead, said: "Winning the award shows the commitment our Trust is placing on improving quality care through innovation. The falls response vehicle demonstrates how the working in partnership of two professional groups (paramedics and social care) can really improve the quality of care we deliver to patients at the point of call.

"Around one in five emergency calls to the ambulance service is related to someone falling and this scheme shows how by taking a different approach to responding we can pro-actively care for a greater proportion of patients in the community. The two professionals between them provide a comprehensive clinical assessment as well as social care assessment, where it is appropriate interventions are provided which allow the patients to be treated in the community rather than hospital."

Dr Jane Halpin, Chief Executive of NHS Hertfordshire said: "This is an excellent example of how, by working together, the NHS and social care can improve the care older people receive after they have fallen. Keeping people out of hospital and living independently in their own homes is a top priority for us and this project shows what a difference can be made to patients' experiences. After the success of the pilot project we now have plans to extend it across the rest of the county."

The scheme, which is jointly funded by the county council, NHS Hertfordshire through the ambulance trust, and the East of England Strategic Health Authority, is being piloted with one social worker accompanying one Emergency Care Practitioner, in Dacorum, Watford, Three Rivers, St Albans and Hertsmere. It began on November 30, 2009, and if it continues to be successful, will be rolled out across the rest of the county.