East of England Ambulance Summer Safety Week
East of England Ambulance Summer Safety Week
Tuesday, 24 August, 2010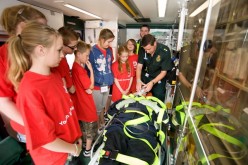 A group of Bedfordshire school children took part in a recent summer safety week, hosted by the Bedfordshire and Luton Fire and Rescue Service.

Summer safety week is a 999 action-packed week involving representatives from the police, fire and ambulance services. The aim is for the children to interact

and learn about individual responsibility, community safety, and reducing road risk and accidents. They also got a chance to practice emergency life support skills.

The children were between 11 and 14 years old and came from various schools in and around Bedfordshire. On Friday, August 6, the children witnessed a mock road traffic collision in which a car was cut open to extricate a trapped casualty. The demo was aimed at hitting home the message of the importance of safe driving.

East of England Ambulance Service community partnership training officer Simon Marshall who took part in the event said: "All the participants and the teaching staff had a enjoyable time. The children were very willing to learn new skills and tips which will no doubt assist them later in their lives."