Festivals bring in the crowds
Festivals bring in the crowds
Monday, 16 August, 2010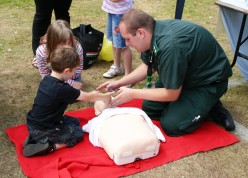 The trusts community partnership team have been kept very busy when they represented the trust at two major festivals held in Bedfordshire and Hertfordshire recently.

On Saturday, July 17, the Kaleidoscope festival took place at Stanborough Lakes in Welwyn Garden City. This event celebrates culture, food and music from all over the world. With Stanborough's south lake providing a picturesque backdrop, the smell of jerk chicken and curried goat filled the air, making for a truly multicultural atmosphere.

There was also the opportunity to learn more about some of the many religions that are followed in Welwyn & Hatfield, including Islam, Buddhism and Baha'i. Steve Catley and his colleague Stuart Reeves, spent the day teaching and raising the awareness of how easy it can be to save someone's life. Steve said: "During the day our stall attracted lots of people who interacted on our BLS skill stations. Children and their parents had the chance to try out basic life support techniques and we had some interest about the community responder schemes."

One of the trusts patient user group members Pam Morris, was also at hand to promote the much worthy message in a bottle scheme. Over the day she gave out in excess of 150 bottles to members of the public.

The following day, community partnership training officer Simon Marshall represented the trust at the Bedford River Festival. The festival is held biannually on the banks of the River Ouse. It was founded in 1978 to celebrate the completion of a navigable route, by water, between Bedford and the coast.

Again, this was an excellent opportunity to engage with the public and learn about the role of the ambulance service in the community. Simon said: "The river festival this year certainly lived up to its name, it was a tremendous day and several members of the public were interested in what services we provide as an ambulance service in the community."