Emotional return for South East Herts paramedic
Emotional return for South East Herts paramedic
Monday, 16 August, 2010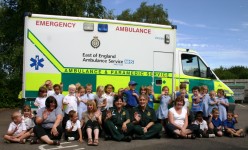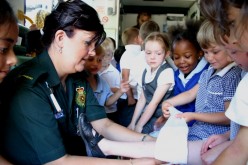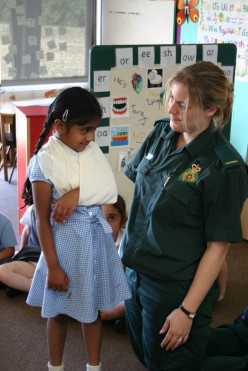 A paramedic took a trip down memory lane recently, when she was asked to return to the primary and infants school she attended as a child.

Sharon Spencer and her colleague Jackie Westhorpe, both based at Cheshunt, popped along to Roebuck Primary and Nursery School in Stevenage, to see the children who's theme for last week was 'People who wear a Uniform'. Sharon who lives close by and has fond memories of her time at the school said: "I was approached by Mrs Smith about the possibility of bringing an ambulance to the school and talk to the children about the role of a paramedic I jumped at the chance. It was very surreal going back to my school and some of my teachers are still there."

Sharon was joined by her crewmate Jackie, showed over 70 children the ambulance in the playground, and talked to them about how to call 999 and how to apply bandages and slings. They also had the opportunity to see the blue flashing lights and heard the sirens out in the playground. Throughout the morning, the children interacted with each other and all had a chance to apply splints, slings and bandages on each other.

One of the trusts communications managers, Gary Sanderson went along to meet the crew and the children, he said: "Both Jackie and Sharon were absolutely brilliant with the children. The teachers were so impressed with the crew and the children were taken back about the whole event." Sharon added: "Both Jackie and I would like to thank Stewart Wilson at Letchworth station for supplying the ambulance, and Gary for providing the colouring books and crayons on the day."