Herts take control!
Herts take control!
Friday, 12 February, 2010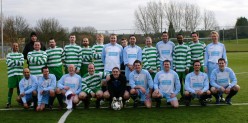 Herts team in blue and the Beds team in green.


A team of paramedics based in Hertfordshire, took on a joint team football from Luton and the emergency operations centre in Bedford.

Gary Sanderson who arranged the match alongside Stuart Wren from Luton, said: "Both teams try and meet up on a regular basis and the game on Sunday gave us an opportunity to help in anyway we could to raise much needed funds for the Haiti disaster appeal."

The first half was dominated by the Beds side, who went in to half time 2-1 up thanks to goals from Raynard Robinson and Chris Camino. The second half saw Hertfordshire step up the pace, and five goals followed, Gareth Hopkins, Mo Ali, Dan Ansen, Mark Laister all netted. Adam Pitcairn scored a sublime goal by lobbing the keeper just past the halfway line.

Gary added: "Everyone who played really enjoyed the game and to raise £40 is fantastic news. The Beds team were definitely up for the game and were the better side on the day, but we were persistent and went away the eventual winners." The game was held at the Knights Templar Sports Centre in Western Way, Baldock.